December 30, 2011

For Christmas eve, we roasted duck for dinner at the in-laws' place. I thought a different fowl for a change would be nice, instead of the usual turkey. In all honesty, I am not really very fond of turkey. There is the thing with the size of it and getting stuck eating turkey for 2 weeks and then there is the gameyness to it that I can't appreciate. Duck is delicious, on the other hand.
I bought a 2.5kg frozen Brome Lake duck and it was plenty to feed 4 to 6 people easily with three side dishes and a Scottish Meat Pie (for another post for another day!) that were served that night. Duck is more festive, in my opinion. If you can find goose, even better! This recipe incorporates macerated orange zest, five spice powder and garlic; and it works for any bird you intend to roast.I also stuffed the bird with some good quality pork sausage stuffing. Basically, I just cut open the sausage casing and just pull out the meat into a bowl. For lightness, I have also added some breadcrumbs and some chopped herbs for extra flavour.  I went a step further by coating the duck with a mixture of honey, corn syrup, balsamic vinegar, malt vinegar and red wine for a shiny finish. I wanted to give the duck a nice flavour on the skin and to achieve that glorious dark shellac when it comes out of the oven.
Don't be afraid of duck. It's anatomy is no different from a chicken or a turkey for that matter. If you have roasted chicken or turkey, you can do this. It's really not an intimidating bird to roast at all. In fact, the bird is self-basting because of the high fat content that lives under its skin.
Now, carving it on the other hand was a bitch. But that's another story for later. This is a recipe for roasting a duck, making it pretty and making a sauce out of the drippings on the pan.
November 21, 2009
Honestly, this duck dish does not have a name. But it is the duck dish for all duck dishes because this is a basic duck preparation that anyone can use and then customized to their liking.
I love duck. It's one of those meats that I can't get enough of. Have you had Chinese roast duck? That crispy brown skin and gray flesh nicely imbued with Chinese spices and herbs? It is to die for. But I do not have time to dry and blow a whole duck's skin up before roasting for that Peking goodness so I make do with a nice slab of roasted duck breast from Lac Brome Ducks.
Why are ducks from Lac Brome Ducks special? I just know that this is the oldest duck-breeding farm in Canada that breeds Peking ducks – and knowing that their ducks are not forced-fed for foie gras is good enough for me.
It's really easy to get duck at the market, your every day grocery stores carries frozen duck breasts in their freezer sections at the very least. And cooking duck breast cannot be any easier. Duck is probably the only poultry you can eat a little raw. You treat it like steak and cook it to your desired done-ness; I like mine medium. There are two ways to finish cooking this roasted duck breast, on the stove top or in the oven. This is the stove top method.

A Very Easy Roasted Duck Breast
serves 2 people
1 Duck Breast, with skin intact
salt & pepper
Optional seasonings:
1 teaspoon szechuan peppercorn
1/2 teaspoon cumin
1/2 teaspoon garlic powder
Chinese Five Spiced Sauce:
1 teaspoon five spiced powder
1 star anise
1 tablespoon of brown sugar
1/2 cup of chicken broth
2 teaspoon of duck fat, reserved from duck breast
1 sprig of fresh thyme
1 clove of garlic, crushed
Salt to taste

Method:
1. Crush the Szechuan peppers with cumin until powdery fine. Use a pepper mill to do this. Mix it with the garlic powder to combine well and set the seasoning aside.
2. Make small slits on the duck skin, in a crisscrossed manner – be careful to not cut through to the meat.
3. Season with salt and pepper throughout the duck breast. Rub the seasoning spice you had milled on the meat of the duck and not the skin. Let the duck breast sit for about 15 minutes so the flavors of the spice get a chance to work its magic through. It would be best if you could let it sit in the fridge overnight.
4. Heat a skillet on the stove – there is no need for any oil. Once the skillet is really hot, put the duck breast in skin side down and let it roast in the pan for 5 minutes. Reduce heat to medium.
At this point you'll be seeing a lot of oil gathering around the pan, save two teaspoons for the sauce later. Or save it all and use it as you would with olive oil, just remember to store it in the fridge so it won't go rancid.
5. After 5 minutes, pour the excess oil out into a small bowl. Turn the duck breast over and cook for another 4 minutes.
6. Remove nicely pan roasted duck breast onto a cutting board to let it rest for 10 minutes – cover with some aluminum foil.

To make the sauce:
7. In the same skillet, add two teaspoon of the duck fat and the crushed garlic. Saute until the oil is fragrant and then add in the chicken broth, star anise, brown sugar, five spiced powder and thyme. Scrape the fond off the skillet and let concoction boil until it is reduced by half.
8. To serve, slice the duck breast as thin as you want, serve with some sauce.
I served mine over some left over butternut squash puree. MMm!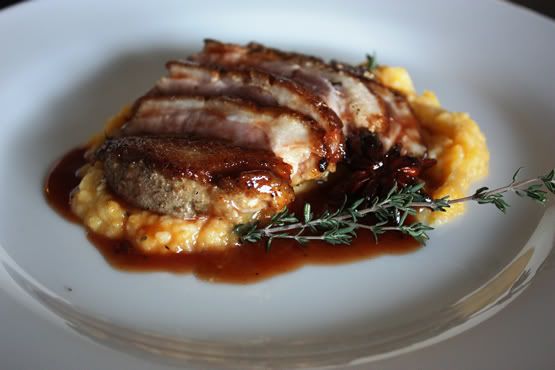 You can make changes to this duck recipe to suit your taste. Duck a l'orange? Sure, follow the recipe for the sauce and drizzle it over the roasted duck breast. Duck is a very tasty meat on its own and while you pay premium price in restaurants, you can easily make it at home at a fraction of the price!