Dining at Alex at the Wynn summed up our trip to Las Vegas very well. This is the last of the food series in Vegas – and it was also the most memorable one because it was the first true fine dining experience I've ever had! When compared to L'Atelier de Joel Robuchon, Alex's atmosphere is very classy and high end, everything in the restaurant were cover in gold weaves and a large crystal chandelier – it just screams Fine Dining. Although, the food in both food establishments are comparable – both were equally very good. P preferred Alex over L'Atelier and I vice versa. It's not that I don't think food at Alex isn't great, far from that, it's just a little bit too rich for my palate. I enjoyed the conventional pairing of flavors tremendously.
P and I both had tasting menus. As P is vegetarian, the staff printed a new menu just to accommodate him. If that isn't five star service, I don't know what is. The regular tasting menu fare changes from time to time. Thank god for the fact that the good waiter gave me a copy of my menu tied up in a brown ribbon, otherwise I would have forgotten the names.
So, on to the courses.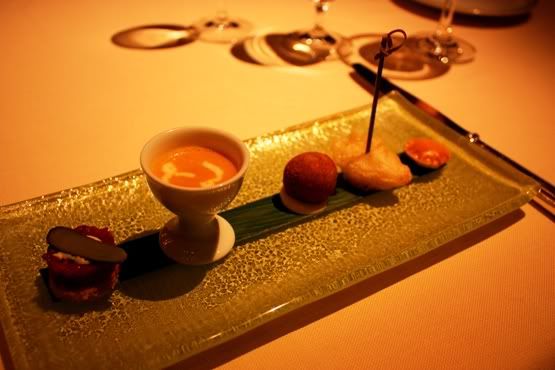 To start us off, the waiter swooped to our table with two platters and told us that it was from the compliments of the chef. It was an array of amuse bouche that we were told to start from left to right. P had almost the same thing except his was without the beef tartare opening.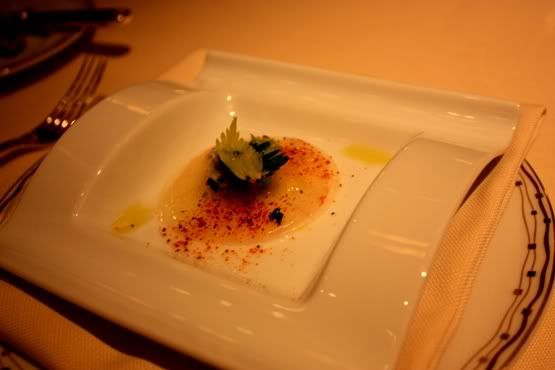 Next came the first course from our tasting menu. Mine is Santa Barbara Prawn Carpaccio with Osetra Caviar, Giant Clam and Celery Salad. This is very similar to L'Atelier's langoustine carpaccio but with the caviar, there is a rich and nutty flavor to it, a stark contrast to L'Atelier's fresh and clean flavor.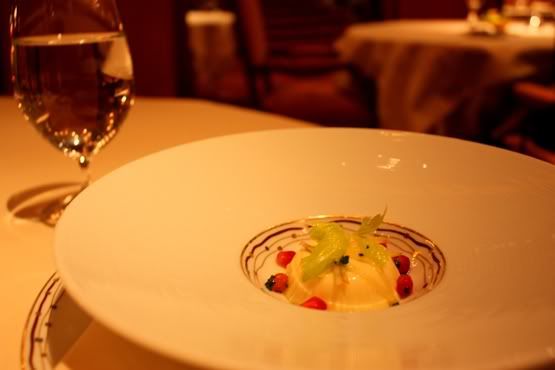 P's was a savory warm panna cotta, I think it's flavored with Parmesan. Smooth and creamy, just as good as his corn and truffle cream at L'Atelier.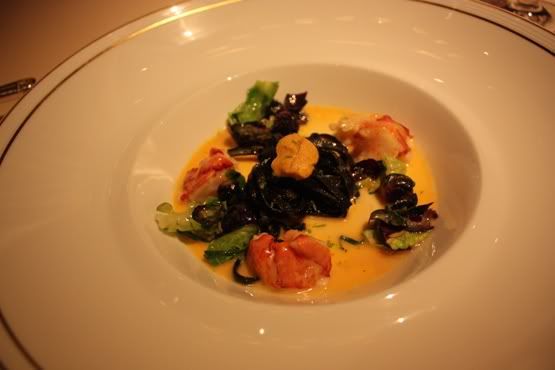 My second course was Butter Poached Maine Lobster with Sea Urchin Linguini, Lime Zst and Brussel Sprouts. The linguini was black as it was made with squid ink – it is my first time eating squid ink pasta and I must say, it tastes exactly like any other pasta except that it's black. The whole dish was delicious. I loved how the sea urchin gave the pasta a very butter flavor – as if the poached butter lobster wasn't buttery enough. It was sinfully good.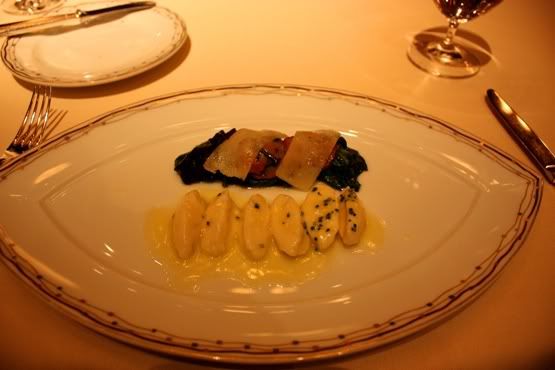 P's was a gnocchi dish. The gnocchi was so soft and pillowy, it almost melts in the mouth. With the buttery cream sauce over the top, P swore he'd never look at gnocchi the same way again. Oh yea, ricotta was a main ingredient in those gnocchi!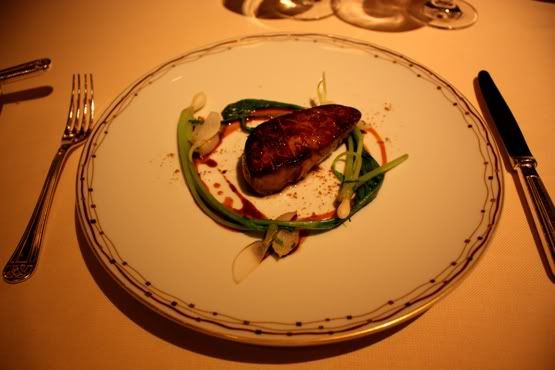 The richness just kept on coming. The next non-vegetarian course was a thick slice of sauteed foie gras. Oh. My. God. It was so rich, when I put a piece in my mouth, I could have swore I ate butter but then this subtle flavor of the dried fruit mostarda cuts through along with the refreshing Hakurei Turnips really made this dish. I won't order foie gras but I would order this foie gras dish.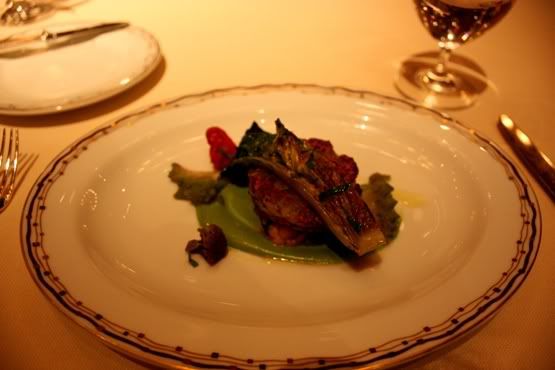 P's dish was a medley of vegetables – unfortunately, I don't remember what it was anymore but I remembered him enjoying every bite on this plate.:)

Next was Dover Sole with Gem Lettuce, Chanterelles, Oven Dried Tomatoes and Red Wine Reduction. Lovely sole was coated with Parmesan, which gives it a very salty and creamy flavor.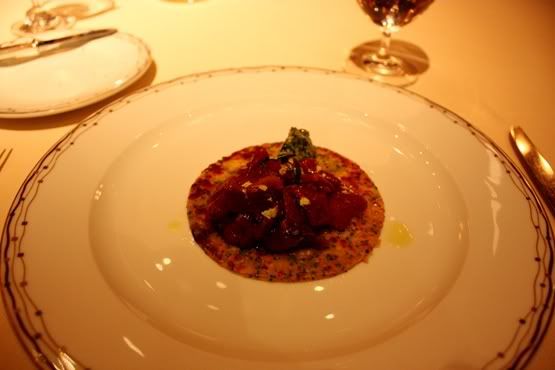 P's course with mine. It was a roasted tomato relish over chives pancake. Simple but effectively good.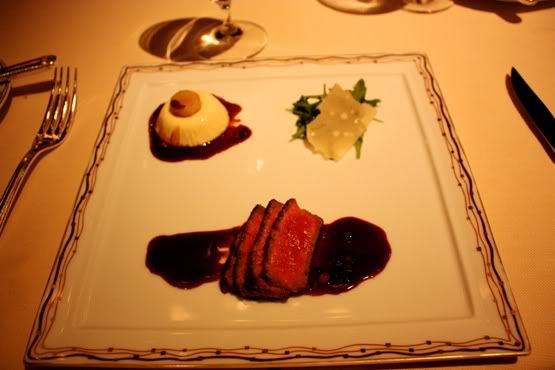 Last of the savory course was the Wagyu Beef with Parsnip custar, Bordelaine Sauce and Crispy Bone Marrow Fritter. God this is crazy. That beef was so tender, I don't think I can eat regular beef ever again. Which is a good thing because I don't cook beef at home anyway. The wagyu was beautifully marbled and melts in your mouth with every bite. Notice how everything here melts in your mouth like butter?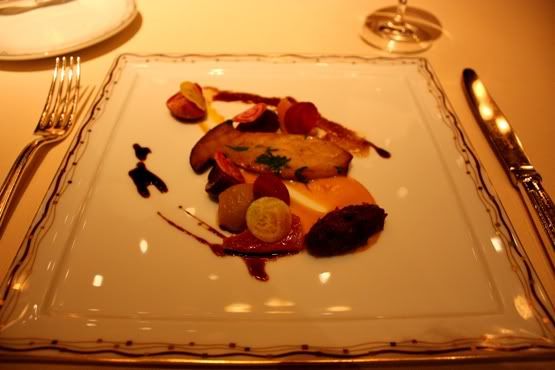 P's course was a slice of meaty mushroom. I think it's rabbit's foot but I could be wrong. Now, P is not a big mushroom fan but he Loves truffle…this dish was so good, he couldn't believe it was just straight up mushroom.
Our dessert was the most wonderful of all. We had three desserts and mini cake even though there was only two dessert items on the menu. Compliments from the chef, according to the wait staff – we won't complain. Maybe it was because we were celebrating our anniversary.
However at the end, we were SO full we could no longer take a bite but we trudge on with the first and second dessert.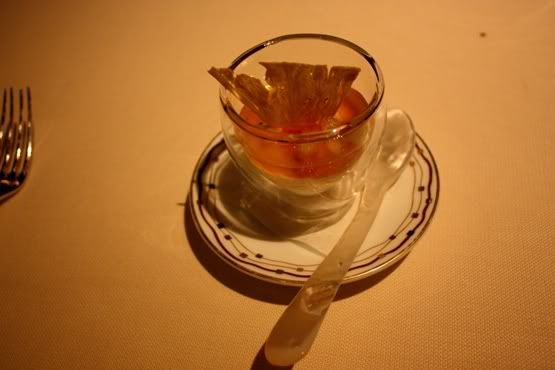 Coconut Tapioca with Tropical Fruits was the most ridiculous tasting thing we have ever had. How do they expect us to go back to our lives the way it was before after we've tasted this?? This wonderful dessert was a beautiful balance of flavors and so light, but at the same time …rich? I can't fully explain it without my head getting a bit fuzzy. It was that good.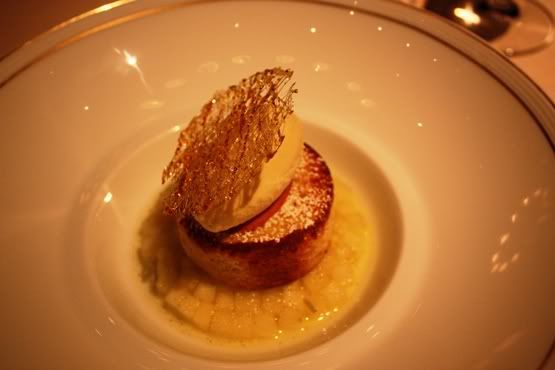 Second dessert item was the toasted vanilla brioche with butter poached apples and maple ice cream. This is perhaps the weakest link of the dessert. I liked the poached apples but everything else were just okay. And oddly enough, Mr. Sweettooth agreed.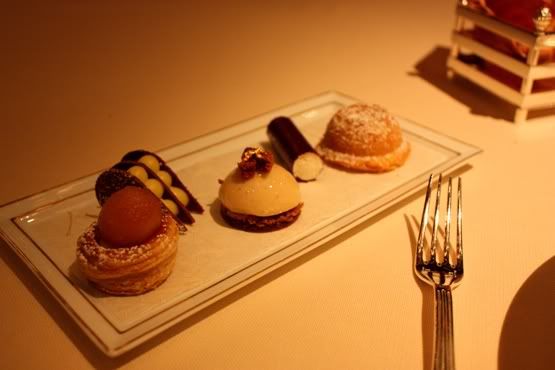 By this time, we were really, really full. We want to just crawl out of this majestic dining room to catch Phantom of the Opera when the waiter swooped by again with two platters of desserts. 5 different options on each plate…AND a miniature cake with a "Happy Anniversary" written on a white chocolate marzipan (forgot to take a picture of that one). Goodness.. we decided to take the desserts away because we really had to go, and quite frankly we didn't want to further test the limit of our stomach. On our way out, we were given a box of macarons courtesy of the reception. Food was delicious but there's only so much deliciousness one can take. The desserts as we attested the next day were delicious, the macarons were te most delightful thing to eat.Ever. Perfect breakfast, imo. Though, I wished we had the time gone back to Tableau for a quick lunch before heading back to Montreal.