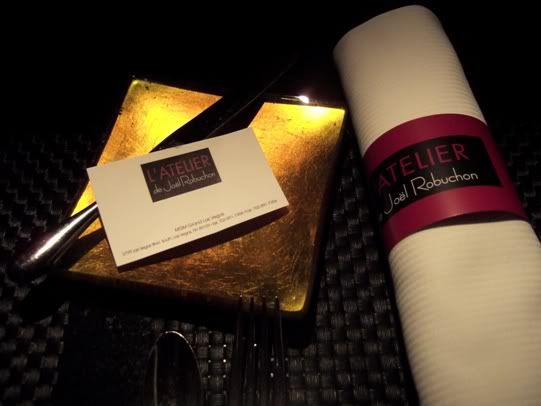 This was the first proper dining destination for our Vegas trip.
L'Atelier de Joël Robuchon
is the sister establishment of Joël Robuchon, which incidentally was fully-booked until New Year's eve. It was a very memorable experience eating at the casual L'Atelier and a stepping stone for our taste buds to rest of this culinary trip. Never have we been wowed like that by poncy food propped atop of each other but we are getting it now. Poncy food only works well if the food is at the very least excellent, anything less can only be considered as stacked food with foam that reminds you of something unappetizing.
For the uninitiated, Chef Robuchon has been named as Chef of the Century by
Gault Millau
so eating at any of his restaurants is indeed a privilege!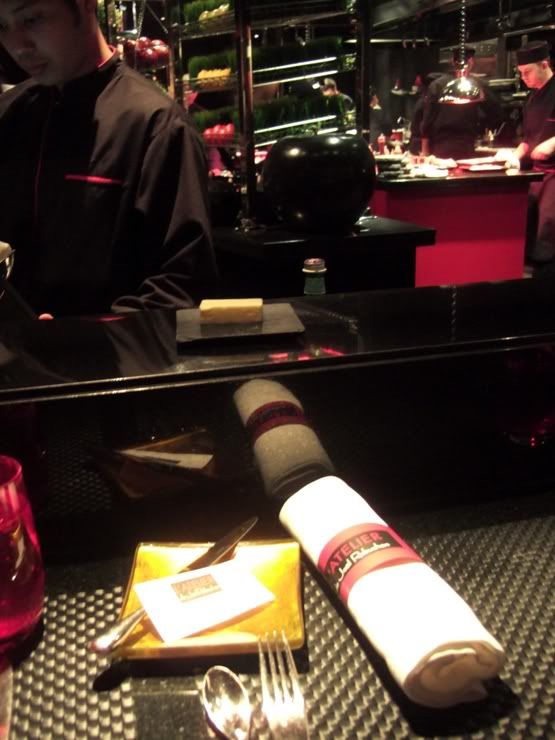 L'Atelier Joël Robuchon served us masterpieces of beautiful, intricate and delicious plates of food. P and I were delighted that the staff were so accommodating as well. P is vegetarian; and despite the little snafu made by the hostess who lead us to believe that the L'Atelier had a separate vegetarian-friendly menu like its fine dining counterpart, the wait staff quickly and ingenuously accommodated P's preference by crafting a 5-course vegetarian menu for the evening. It was very much appreciated despite it being last minute; and it did not disappoint. I had the holiday tasting menu, which had 9-courses from an amuse bouche to dessert(s as there were two for me). And bless the restaurant for they gave me a copy of their menu – I don't have P's menu however, so my dishes will have proper names while P's vegetarian courses will be identified as we go along.
L'Atelier de Joël Robuchon's Menu
*** Please forgive the low quality photos, the lighting at the L'Atelier was pretty dim and I was using our old Fujifilm F10 camera to take these pictures. I know, and if it's any consolation, I took my DSLR to Tableau and Alex so expect better pictures in those reviews.


Appetizers
L'Amuse Bouche: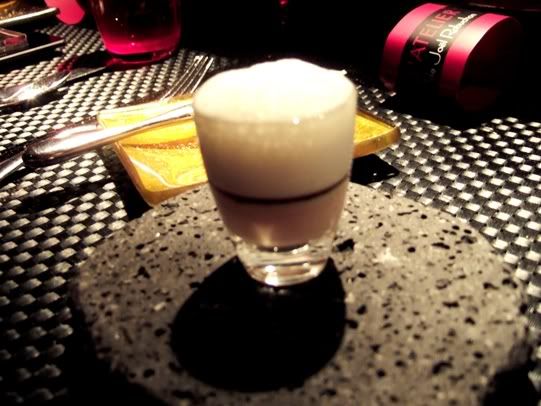 Foie gras parfait with port wine and Parmesan foam.

This was the perfect amuse bouche for me because it made me even hungrier than when I started. Good thing I still have 8 more courses to go. At first, I wanted to drink the glass like a shot then I was told by the waiter I should perhaps use the spoon because there are surprises at the bottom. Of course, a piece of foie gras swimming at the bottom of the glass with the rest of the parfait.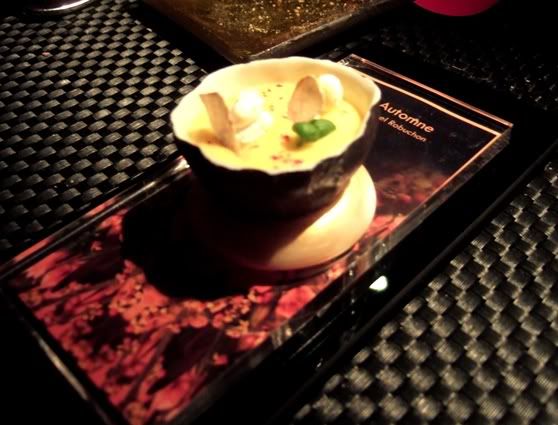 P's savory cream of corn with champagne gelee and white truffles
This is a vegetarian course that is not on the menu. It was created on the fly by the excellent chef at L'Atelier. You should have seen P's face when he first tasted this. He was engulfed in so much pleasure, I never thought he'd be so affected by a cup of savory cream of corn. "It's the white truffle", he said. Corn and white truffle, I'm putting that on my list of things to stock in my pantry.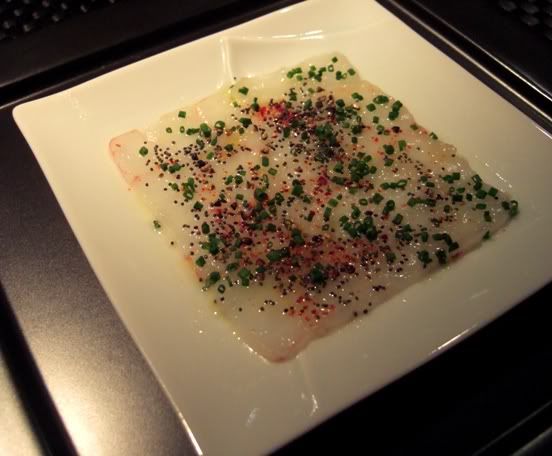 La Langoustine
: Langoustine carpaccio with roasted poppy seed dressing
I have had fish and beef carpaccio but never shellfish carpaccio. I missed out, obviously. I loved the fresh flavors of the sea in this dish and the poppy seed dressing was so yummy with the langoustines.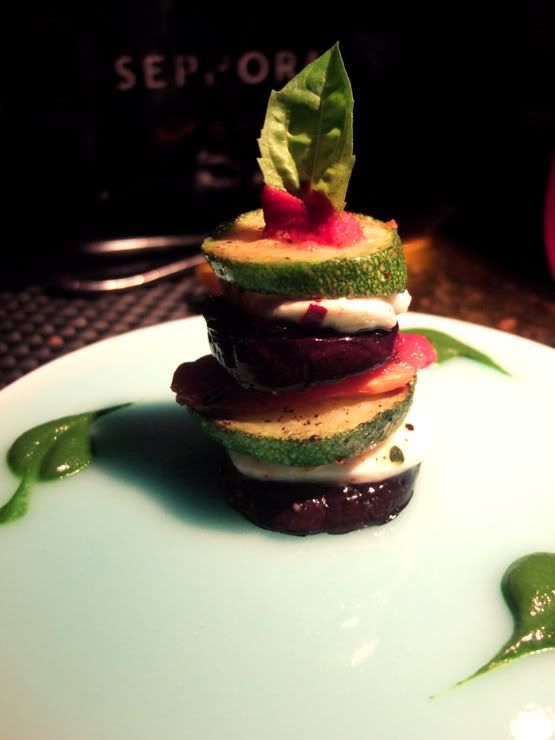 P's

Les Legumes:

Mediterranean vegetables layered with buffalo mozzarella with green pesto.
Vegetables are like gems in the rough. When cooked properly, it can be the most delicious stack of food you can ever put in your mouth. Evidently. The buffalo mozzarella with the green pesto is like a marriage made in heaven.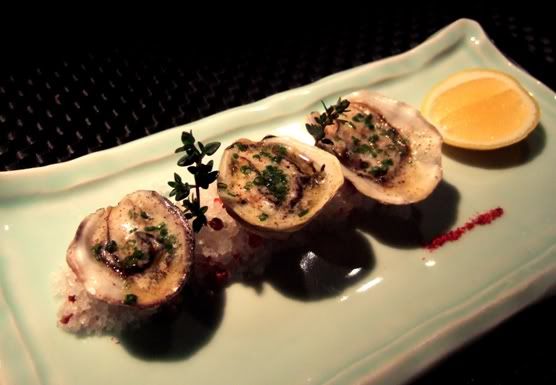 Les Huitres

: Poached baby Kussi oysters with French

echiré

butter
This was perhaps my favorite course of the evening because I LOVE OYSTERS. These kussi oysters were lightly poached and while I would be happy with it being completely fresh, I absolutely adored how the oysters were so perfectly plump and juicy and soaked in butter. My mouth salivates still every time I look at this picture.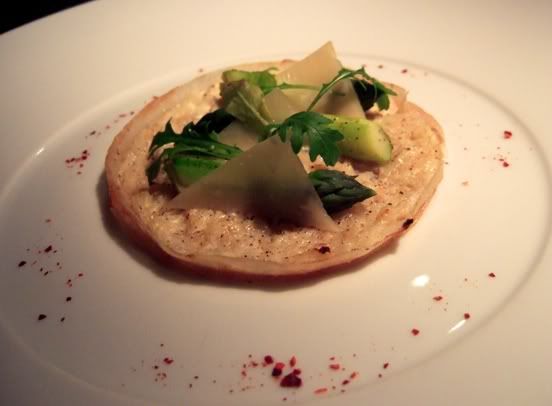 P's
La Cebette
: White onion tart with smoked bacon parmesan and asparagus
Nevermind the bacon, P thought it was going to be something of a filler-course but the white onion tart was utterly delicious. It was probably the least fancy looking thing but flavor-wise, it more than made up for it's lack of aesthetics.
L'œuf
: Steamed egg in a macaroni ring with black truffle and parsley coulis
When I first saw this dish, I didn't know what to make of it. I don't exactly like foamy sauces and I could not see the steamed egg. But let me tell you that this dish spoiled me and I can never eat an egg the same away again. Nestled within the foam and macaroni ring, lies an egg, round and pure. The whole egg was like a soft, pillowy cloud – and when I cut into it, a beautiful golden stream flowed out and envelopes the dish into a beautiful and tasty mess.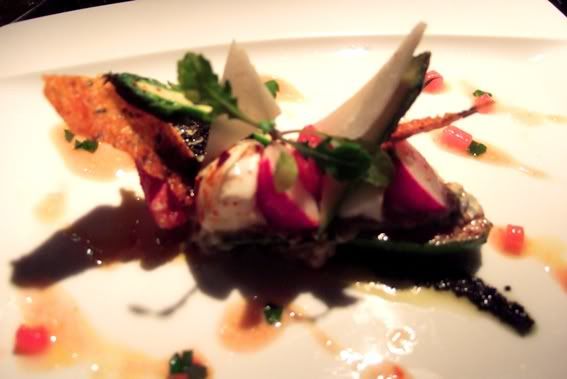 P's

La Courgette

:Roasted zucchini with eggplant caviar

and Parmesan crisp

"So beautiful", we said in unison. This roasted zucchini was absolutely delicious and surprisingly rich. The eggplant caviar gave this dish a different dimension to it with a nice tartness that cuts into the richness of it all. P was raving, and raved some more the next day, about it.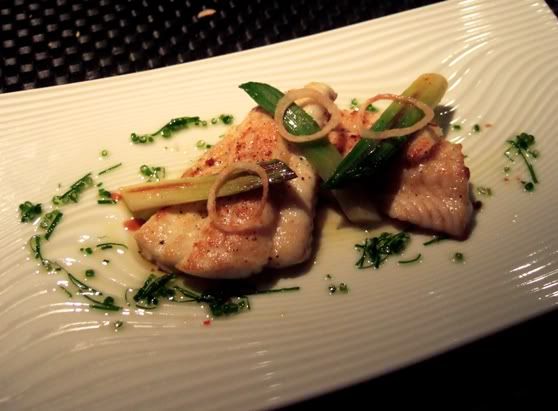 La Sole
: Dover sole fillet, baby leek with ginger
Who would have thought fish could taste this god-awesome good? I believe it was the lemon oil and combination of the sweetness of the leek that did it for me. It was the perfect palate cleanser for what is to come.
Main Courses
La Caille: Foie Gras stuffed free-ranged quail with truffled-mash potatoes
OR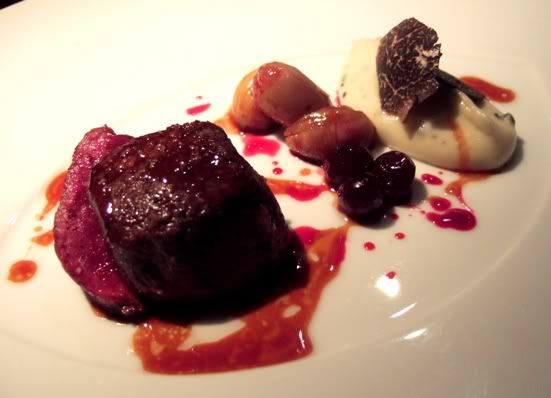 Le Chevreuil
: Venison with sweet and sour cranberry and chestnuts – I picked this one because I didn't feel like foie gras

The venison was cooked to medium rare and when I sink my knife for a bite, I gasped in surprise at how tender it was. It was like cutting into butter, and it melted in my mouth. The venison was not gamey as I thought it would be either, it was just utterly delicious.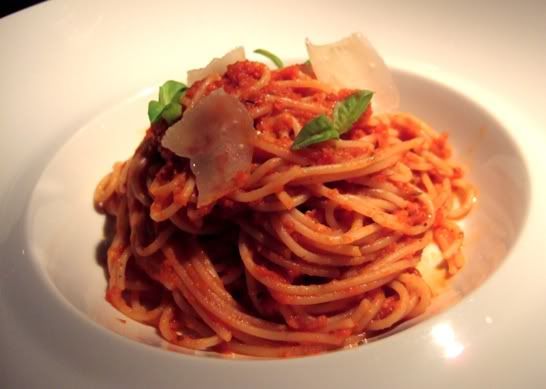 P's
Les Spagetti
: L'Atelier style spaghetti with truffle oil

Do not let this unassuming pasta dish fool you, it was perfumed with truffle oil and bathe in a rich tomato sauce.
Dessert: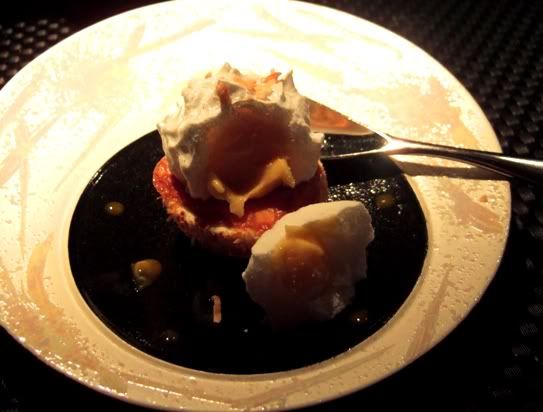 La Passion
: Fresh passion fruit in a coconut meringue, Champagne brut – P's menu did not have La Passion, which was a pity. But thankfully for him, I shared.
This dessert was the most divine pleasure at L'Atelier. As everything else was perfectly delicious, the sweet and tartness of the passion fruit ice cream enclosed in a cloud of crispy meringue atop a wafer atop a brut was the perfect ending to our meal. But in the spirit of hedonistic decadence, our waiter brought us our final blow….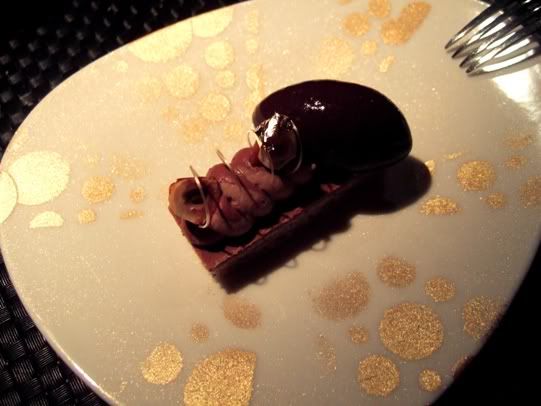 La Noisette
: Hazelnut dacquoise, gianduja crunch and chocolate ice cream.

Decadent, rich chocolate ice cream on hazelnut dacquoise a nutty crunchy wafer deck with a gold leaf. The entire plate was powdered in gold circular patterns – yes, it is
real
powdered gold on our plates.
Overall, it was an excellent experience from food to service.
L'Atelier Joël Robuchon
was an exciting experience that opened up our gastronomical horizons leaving us hankering for more. And thankfully, this is just our first stop.
Next, I'll write about Tableau (the best breakfast and brunch spot in the whole of Vegas).