May 23, 2009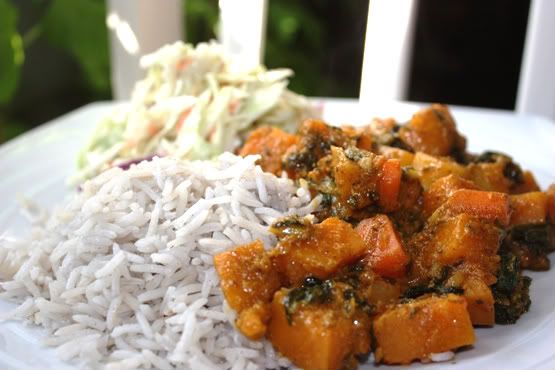 Oh I don't believe it! Remnants of winter in my pantry, a lone butternut squash leans quietly at the very back of my sack of rice and onions. A sneaky one.
Pacing to and fro the fridge and cupboard, I realized that I also have a lot of unused curry powder from Malaysia too. I've been making my own curry spice when I needed some. I bet that pile of pre-packed curry powder have been feeling rather lonely too.
That lone butternut squash will be good for a vegetarian squash curry. On a bed of rice. With a cold lemony slaw.
I don't know about you but curried squash can be so delicious and yet so simple.
Check out the recipe after the jump!

I toasted some spices to go with the packet curry powder from Malaysia. I like my curries to pack a nice aroma with a spicy punch.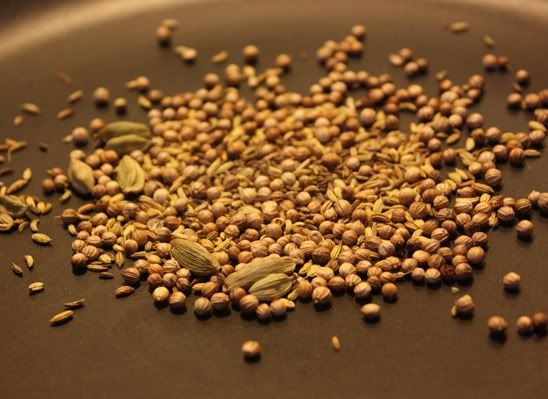 Butternut Squash Curry
2 cups of butternut squash, cubed
1 small carrot, cubed
1/2 cup spinach
2 onions, chopped finely
4 cloves of garlic, chopped
1 tablespoon coriander seeds
1 teaspoon cumin
1 teaspoon caraway
4-6 pods of cardamom
1 teaspoon black mustard seeds
1 star anise
3 tablespoon curry powder
1 teaspoon turmeric powder
1 dried chili, deseeded
1/4 cup yogurt
2 tablespoon vegetable oil
Salt and pepper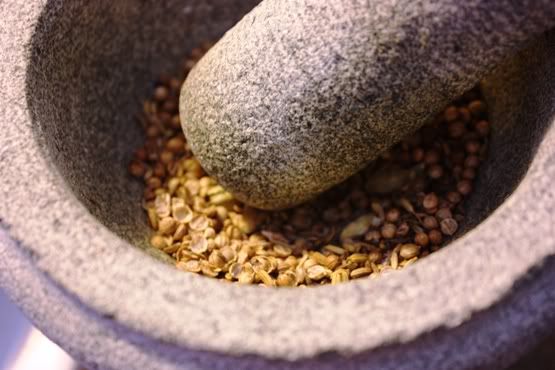 Method
1. Toast the coriander seeds, cumin, caraway and cardamom until aromatic. Be mindful as to not burn the spices.
2. Pound the toasted spices in a mortar and pestle until all the spices are crushed.
3. In a same pan, heat oil and toss in the mustard seeds and star anise. When the mustard seeds starts popping, add the onions and garlic in. Saute until the onion is translucent.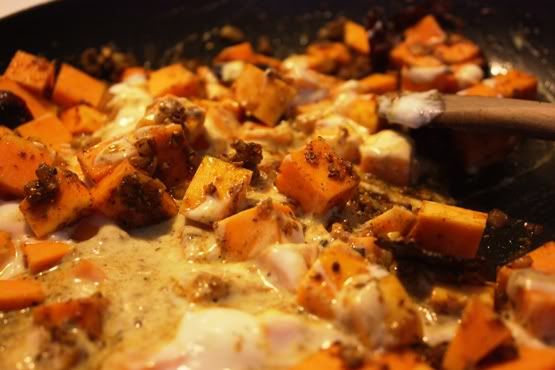 4. Now, add the pounded spices and dried chili in. Saute for a minute or two and then add the squash and carrots. Season with salt and pepper. Cook the vegetables for approximately 8 minutes or until the squash is slightly opaque on its sides.
5. Add the curry powder and turmeric powder in and saute to combine well. Pour the yogurt in with the spinach and cook for another 10 minutes.
Serve the curry hot a bed of basmati rice and a side of lemony slaw (recipe below).
Lemony Slaw Recipe
1 pre-packed coleslaw vegetable mix (cabbages, carrots)
1/4 cup lemon juice
1 tablespoon mayonnaise
50 grams of raisins (optional)
a big pinch of chili flakes
salt and pepper
Method:
1. Mix the lemon juice, mayonnaise, chili flakes, salt and pepper in a bowl until well combine.
2. Pour the dressing over the salad and toss to combine. Chill before serving.