August 2, 2010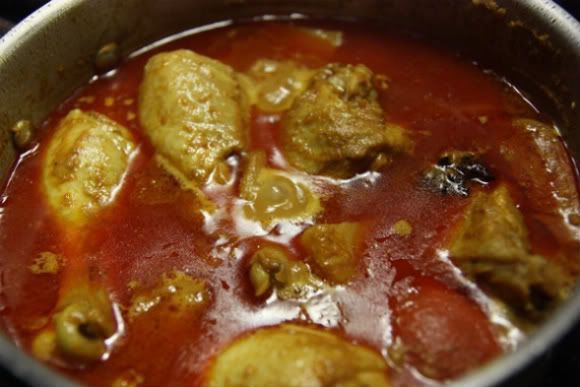 There are many kinds of curried chicken in Malaysia and while I am not sure which kind this is, it is the kind that is served in my mother's and grandmother's kitchen. If it spanned two generations, I can assure you that this recipe works.
I used to over-think this recipe when I was in my university days because I want, so badly, to replicate the taste from home. And the result is a curry that tastes like it was over-thought, if that made any sense. I put too much curry powder, too much cumin, too much coriander, too much of everything. While it was good, overbearingly spicily good, it was perhaps quite heavy handed. I've learned that it is crucial to understand balance when handling spice.
This curry feels, tastes and smells very much like home and it is a keeper. It is like the curry served during Chinese New Year's reunion dinner along with all the other yummilicious dishes. The spice is just right and it is downright addictive.
Home-style Malaysian Chicken Curry
serves 6
6 chicken legs, drumsticks and thighs separated.
1 star anise
1 stick of cinnamon stick
1/4 cup of curry powder
1 teaspoon garaam masala (optional)
1 teaspoon black mustard seeds
1 large potato, cut into large chunks
2 large tomatoes, quartered
1/2 cup of coconut milk
250ml of water
1 teaspoon salt, or to taste
1/2 teaspoon sugar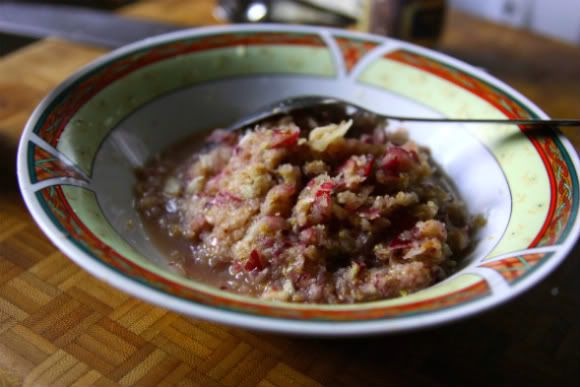 Curry Spice – to be pounded/blended
2 medium sized red onions, chopped into chunks
5 cloves of garlic, peeled
1 tablespoon dried whole coriander
1 teaspoon dried whole cumin
4 pods of cardamom seeds, discard pod after extraction
Method:
I like to pound my spices with a mortar and pestle but go ahead and use a blender.
Toast the coriander seeds, cumin and cardamom seeds on a pan until it is fragrant. Add the spices into the mortar and pestle and grind until powdery.
Add the red onions and garlic in, bit by bit, pounding as you go until you get a spice paste.
Set aside until ready for use.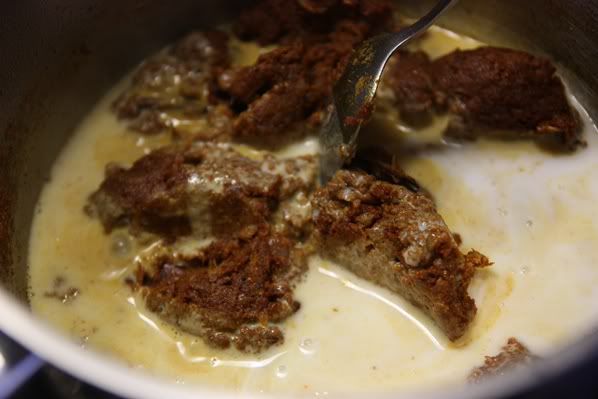 Heat a large pot with 3 tablespoons of cooking oil in medium high heat.
Add in the cinnamon stick, star anise and black mustard seeds into the oil. Once the mustard seeds starts popping, add the spice paste in and saute for about 8 minutes.
When the spice turns translucent and fragrant with oil seeping out on the sides when your stir through, add the curry powder and garaam masala in. You'll get a nice soft paste. Quickly add the coconut milk in and stir well.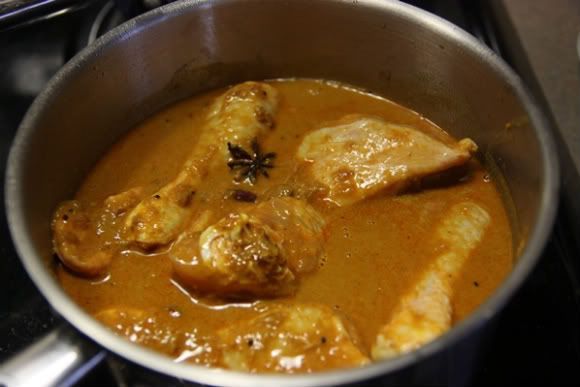 Now it's time to add the chicken pieces in along with the potatoes and water, cover and let the curry come to a boil. At this point when it is a rolling boil, reduce heat to a simmer and add the tomatoes in.
Let the chicken curry cook, covered, for 30minutes before turning off the heat.
This chicken curry tastes better the next day and is great eaten with rice and breads, especially the South Asian kind like Naan bread. The end result of this dish can be rather oily, don't be alarmed, the red chili oil that surfaces actually helps cook this curry better. You could always scoop the excess away after you're done cooking or get rid of the chicken skin.
It's been such a lovely weather lately, hot without much humidity, an excellent reason to crank up the kitchen. *rubs hands together*
Also, on the 31st of August will be Malaysia's independence day. My fellow foodie blogger from Malaysia, Babe_KL is hosting an open house on her blog collecting family favorite recipes for our 53rd Independence Day. The theme is Food From Our Hearts, an excellent theme for a recipe that's spanned two generations. 🙂