July 31, 2010
…with a tray of sweet, roasted Campari tomatoes.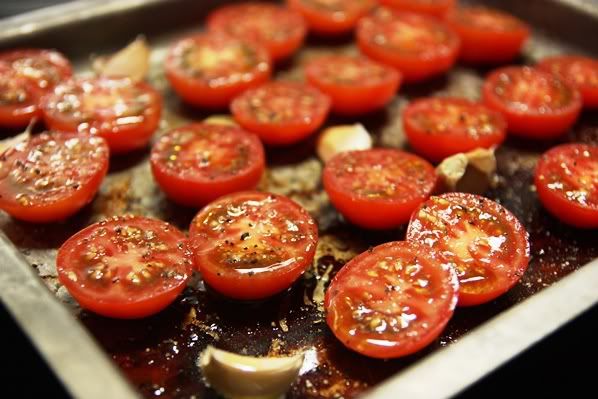 I've been exceptionally busy with work and physically tired these days. I just moved to a new kitchen and my new oven is just begging to be used. There's been a lot of simple eating going around but nothing spectacular I want to document. But soon, there will be blog posts coming soon.
Btw, roasted tomatoes and garlic is crazy good with some pasta or the bbq. Mmh!
12 campari tomatoes
5 cloves of garlic, unpeeled
salt and pepper to taste
olive oil to coat
Method
Slice campari tomatoes in halves width-wise and arrange them on a tray. Toss in the garlic.
Sprinkle generously with salt and freshly cracked black pepper and drizzle with olive oil.
Bake in a 300F oven for 45 minutes and then use it on top of pasta or your favorite grillade foods.