June 26, 2010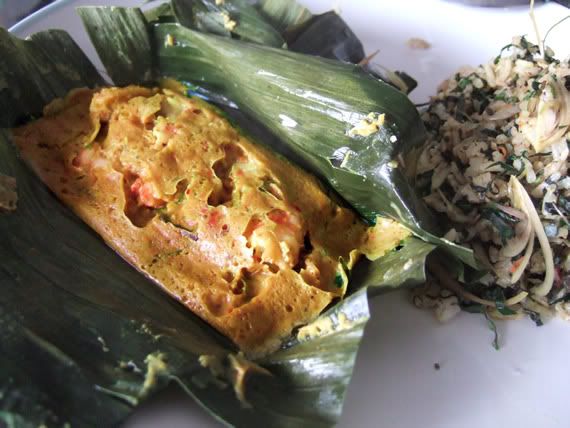 Remember a few posts back, I was posting a bunch of Malaysian recipes because I was having a ginormous Penang food cookout at home? This is one of those recipes and the last of the recipes from that event.
Otak-otak
is a Malaysian fish custard steamed with a spice paste wrapped in banana leaves. The type of fish used are usually white meat and firmer so they do not fall apart too easily; monkfish, halibut, cod, seabass and the likes. There are also variations of this recipe using other types of seafood – this is one of those variations using shrimps.
The spicy custard is key in making this delicious and also a certain kind of leafy herb called Daun Kadok or Piper sarmentosum. The locals in Malaysia sometimes substitute this herb for mint leaves because Daun Kadok has a rather minty profile but by substituting it with mint leaves, the minty profile is pretty much all you get because Daun Kadok also has a lemongrass and a green herbaceous profile that cannot be replicated. But in the event that you could not find this herb, go ahead and use mint. It would still be pretty good.

So, the French have their pates and terrines, the Malaysian have their Otak-otak and it is absolutely delicious to eat when spread on toasts, crackers and even with a steamy hot bowl of rice. To make otak-otak, there are basically three steps 1) POUND 2) ASSEMBLE 3) STEAM – and on we go.
Malaysian Steamed Fish Custard (Otak-otak)
makes 8 pouches


To be pounded:
10 shallots3 slices of galangal root
2 inches of turmeric root
5 dried red chilies, de-seeded
5 fresh red chillies, de-seeded
2 cloves of garlic
2 stalks of lemongrass, cut into small manageable pieces
1 tablespoon of fish paste, also known as belachan
Custard ingredients:
1 cup of coconut milk
2 eggs, lightly beaten
2 tablespoon of rice flour, can be substituted with cornstarch or regular all-purpose flour
4 kaffir lime leaves, finely sliced
1 teaspoon pepper
1 tablespoon sugar
1 teaspoon salt to taste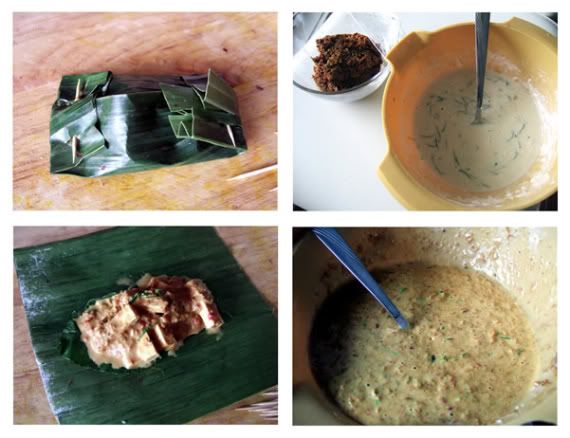 The filling of the custard:
150grams of shrimp, chopped into small chunks
Other options: Any firm fleshed white fish, shredded chicken breast, shredded beef and scallops
16 Daun Kadok or Piper sarmentosum


Method:
Pound the spices with a mortar and pestle until a paste is formed. You can also blend it in a blender but I am partial to hand pounding my spices simply because it just tastes better than mechanical blending. Something about synergistic transference of energy from the cook to the food and I do believe in that shit, don't laugh. 🙂
To assemble – mix the pounded spice with all the custard ingredients very well. A creamy, rich yellow batter will result from all the mixing and you're one step away from steaming.
To steam – take a sheet of banana leaf, softened in boiling water first, and lay 2 daun kadok at it's base. Add some shrimps or fish in the center of the leaves and ladle approximately 1/4 cup of the custard batter. Slowly bring the sides of the banana leaf up and form a pouch, tucked safely with a toothpick. Repeat until the batter is all used up. If you do not have banana leaves, you can also use aluminium foils as well – just oil it a little bit before assembling all the ingredients in. Steam the banana leaf pouches in a steamer for 15 minutes.
It's ready to eat with some rice or with a slice of toasted baguette. Mmmm….
I made otak-otak before 3 years ago but this is definitely the better version. I gather it's because I put a lot of love into it. 🙂
Vegetarians – you can omit the fish paste in the custard and also substitute shrimp with medium soft tofu. It is equally delicious.