April 4, 2010
Happy Easter everyone!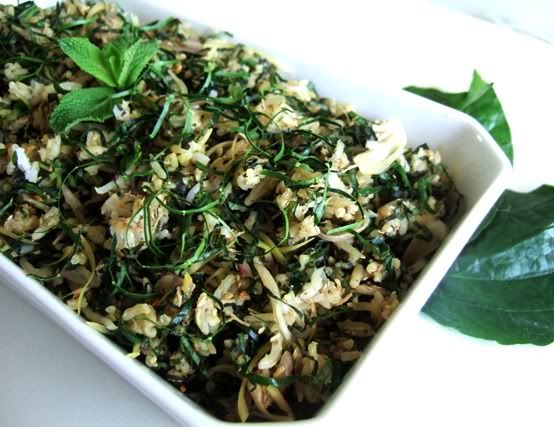 I'm celebrating my long Easter weekend by cooking Nyonya food and the first on my list was Nyonya Nasi Ulam, or loosely translated as Nyonya rice salad in Malay. Nasi Ulam is incredibly healthy and unbelievably addictive. It's delicious with the aromatic herbs, richness of the toasted coconuts and pungent spices. Like most Southeast Asian recipes, Nyonya Nasi Ulam is a little tedious with a lot of preparation work because the herbs are required to be carefully and finely sliced. A sharp knife would be necessary in this case.
We use many different types of herbs in Nasi Ulam, it's the herbs and the other dry condiments that makes this dish absolutely mouth-watering good. When my late-grandmother makes Nasi Ulam, my mother would eat large portions of it almost as if she has a bottomless pit because it's so good with a bit of sambal belacan. I was lucky enough to have found a place where they actually sell the herbs I needed to make Nasi Ulam in Montreal! March Hawai you da bomb. I've found wild betel leaves (daun kadok), Thai basil (daun selasih), Vietnamese mint (daum kesom), mint, fresh lemongrass (serai), fresh kafir lime leaves, fresh turmeric, toasted grated coconut (kerisik) and whole bunch of unrelated ingredients for other Nyonya dishes. I was like a child in candyland. I was unable to find torch ginger flower (bunga kantan) and galangal leaves (daun cekur) but even without these two herbs, the Nasi Ulam was still delicious.
Making Nyonya Nasi Ulam requires patience because there is a lot of preparation work. All the herbs need to be sliced finely by hand and no machinery or magical tools can do the job for you. But the effort will be well worth it in the end when you are paid off with a huge bowl of Nasi Ulam that you can never seem to get enough of.
The ingredient list is longer than the method for this recipe. Let's get to it:
Nasi Ulam (Nyonya Herbed Rice Salad)
Ingredients A:
4 cups of cooked rice
100gms dried shrimps (soak, dice, fry & cool)*** not used
100gms salted fish (cut small thin slices, fry and cool)*** not used
1 teaspoon belacan (shrimp paste)*** not used
4 tablespoons of toasted grated coconut
1-inch fresh turmeric (chop finely)
Salt, sugar and grounded black pepper to taste


Ingredients B (FINELY SLICED):
6 shallots
1 stalk lemongrass (serai – use the thinner end only)
1/2 stalk torch ginger flower (bunga kantan)*** not used
5 kaffir lime leaves (daun limau purut)
3 stalks polygonum leaves (daun kesom/laksa leaves/Vietnamese mint)
3 stalks mint leaves (daun pudina – chop finely)
3 stalks basil leaves (daun selasih)
4 galangal leaves (daun cekur)*** not used
12 wild betel leaves (daun kadok/Piper sarmentosum)
Garnishing:
Some wild betel leaves (optional)
Some mint leaves (optional)
Toasted grated coconut (optional)
Cook's note: This is the full recipe of Nasi Ulam, I've omitted some of the ingredients so that it would suit a vegetarian. Items omitted are marked with ***
Method:
Cook rice until it is al dente and let it cool slightly.
Combine all the ingredients in and mix well.
Serve at room temperature or slightly warmed.
Word of caution though, if you have manicured nails, you might want to book another appointment with your manicurist. All the slicing of these herbs, especially the turmeric, will dye your finger nails into the most unsightly colors. It's no wonder I've never seen my late-grandmother with manicured nails, it just wasn't practical.
This Nyonya rice salad is a perfect side dish to go with meats, fish and seafood. It is also good on it's own with some sambal belacan or your favorite curry. I had my Nasi Ulam with some Chicken Gulai and Pineapple Kerabu.