March 7, 2010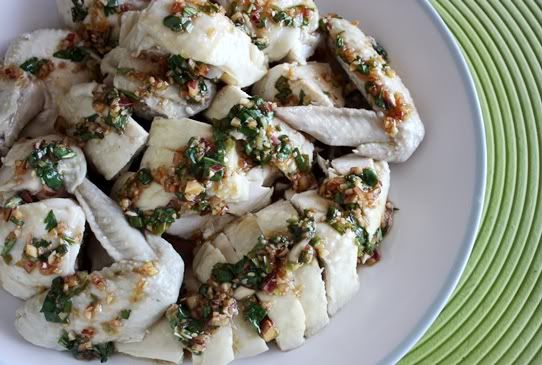 Today, I would like to share with you a curious method of preparing chicken that at a glance would seem like a case of food poisoning waiting to happen. But, it's been done a gazillion times before by cooks like my maternal grandmother, who is half Hainanese anyway. She got this recipe from her grandmother.
You will never say boiled chicken is boring ever again after you try this recipe. The chicken is perfectly cooked through, soft, luscious and of course, delicious to eat. This is something that my mother would even make on a regular basis for dinner because it's so easy. I am sure all of you would agree that most Chinese cuisine's preparation time is always a drag. Long and tedious. But this is an exception to that. The only catch is you would need to plan this a little bit ahead of time, about 2 hrs ahead of time if your chicken is fresh and defrosted.
I did not make the rice to go with my chicken because I didn't feel like having rice with the meal, strange as it sounds. But the recipe for the rice is below, for those of you who want to try the complete Hainanese-style Chicken Rice meal. Oh and before I forget, the chicken is usually served in room temperature.
So let's get cooking.
Hainanese-style Chicken
1 1.5kg Chicken (cooking time do not vary, this method works with even a larger chicken)
2 cloves
1/2 star anise
8 garlic cloves, crushed slightly
1 onion, peeled and halved
2 sprigs of spring onions, tips cut off and left whole
2 big slices of ginger
1/2 teaspoon sesame oil
1 teaspoon of whole black peppercorns
2 teaspoon of salt
Enough water to cover a whole chicken in a very large pot.
Method:
Clean your chicken with running cold water. Make sure to not poke any holes in the skin.
Bring a large pot (big enough to hold your chicken) of water to boil. You need enough water to just cover over the chicken. A good way to do this is fill your pot with water with the chicken in it. Once you've got the right amount of water, take the chicken out and proceed.
Before water starts to boil, add all the ingredients in.
Once the pot starts into a rolling boil, put the chicken into the liquid slowly. The water should stop boiling when you do this. Close the lid of the pot and let it come to a boil again. When your lid starts shaking with huffs of steam angrily spouting from the corner like the picture below:

You are doing good. Now, this is the ridiculous part. Turn off the heat completely and leave the chicken in for 1.5 hours. Do not open the lid, do not stir, do not shake, do nothing. Go read a book or shoot some zombies on your XBOX.

After 1.5 hours, your chicken is ready. Prepare a large sink filled with icy cold water. Lift the chicken gently into the cold water, careful to not break the skin as it is very fragile at this stage, hot out of the pot.

I like to give it a cold bath to stop the cooking completely and also to give its skin a very smooth and luscious texture. Cooling the chicken like this makes it easier to handle while you cut it up for serving. I leave it in the cold bath for about 10minutes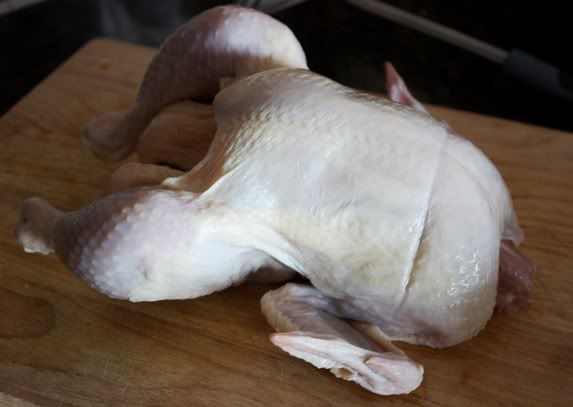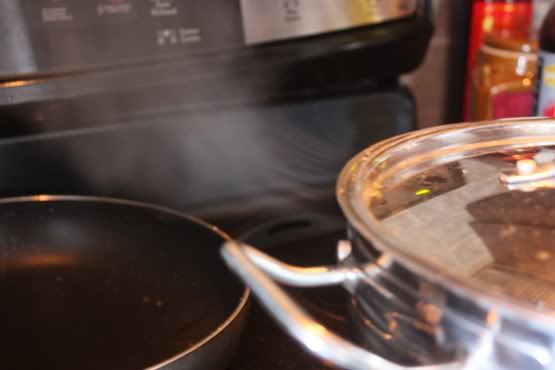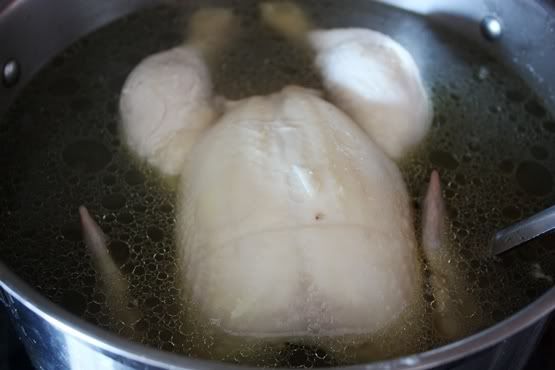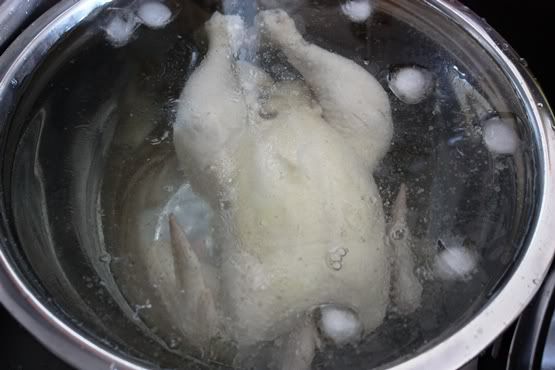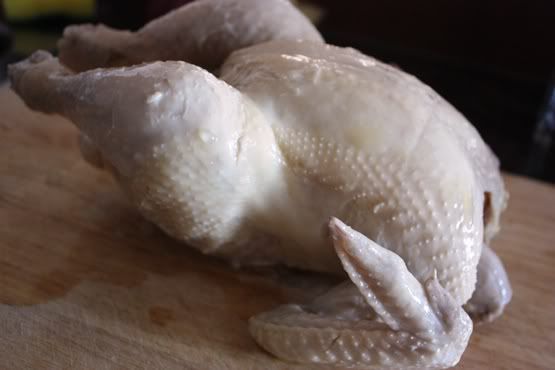 To serve, my grandmother usually prepares a yummy sauce filled with herbs to go with this chicken; I will too because I can't get enough of it. It goes extremely well with the chicken and with rice.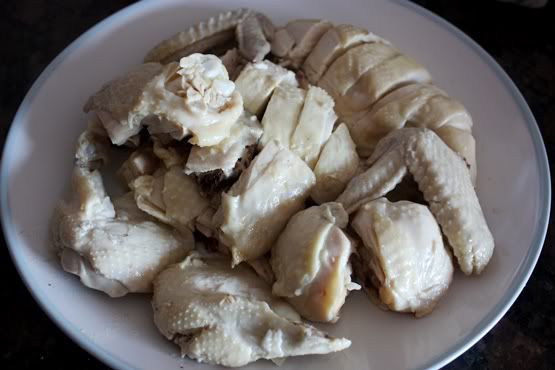 Recipe for sauce and authentic Hainanese-style rice below.
Sauce for Hainanese-style Chicken:
2 tablespoon of Oyster sauce
2 tablespoons of soy sauce
1/2 teaspoon of sesame oil
1 teaspoon sesame seed
2 cloves of garlic, minced finely
2 tablespoon of shallots, minced finely
1 stalk of spring onion, chopped finely
1 sprig of parsley, chopped finely
2 tablespoon of garlic oil and golden garlic bits (minced garlic + enough oil to cover in a small bowl + microwave 2-mins till golden brown)
3 tablespoon of chicken broth (from cooking the chicken)
Method:
Mix everything together well.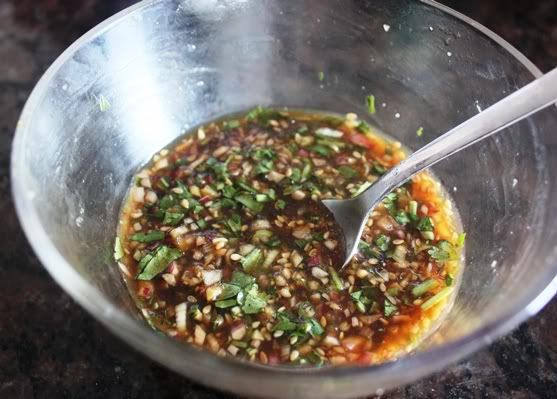 Hainanese-style rice
Feel free to double or halve the recipe to feed more people.
2 cups of jasmine rice
1 tablespoon of butter
3 cloves of garlic, whole
2 stalk of spring onions, ends trimmed and kept whole
2 slices of ginger
2 Cloves
3 1/4 cups of chicken broth (from earlier)
Method:
Rinse the rice with cold water until the water runs clear. Strain the liquid as much as possible.
In a pan, melt butter and saute garlic until fragrant. Add rice and roast the rice with the butter and garlic. This will add a dimension of nuttiness to the rice when it's cooked.
When the rice turns slightly translucent while toasting, transfer it into a rice cooker and add the rest of the ingredients in until cooked.
If you don't have a rice cooker, you can also cook this in a pot. Just make sure you lower the heat to a simmer/low when the rice starts boiling. Cook for 10 minutes or until all liquid is absorbed and turn off the heat completely. Wait 5 minutes before serving the rice.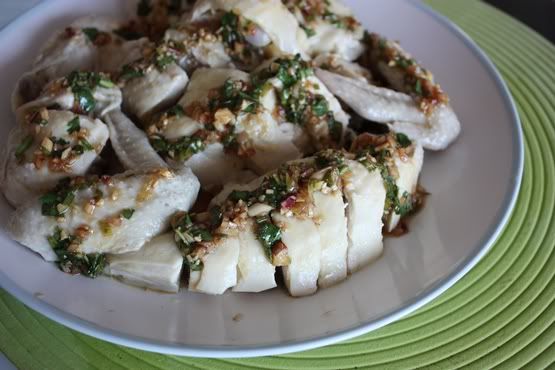 The left over cooking liquid from the chicken makes a good soup base to go with the meal. Add some carrots, shitake mushrooms, Chinese cabbage and/or other root vegetables you like to eat and it'll be a great accompaniment to the Hainanese-style Chicken Rice meal. 🙂