February 16, 2010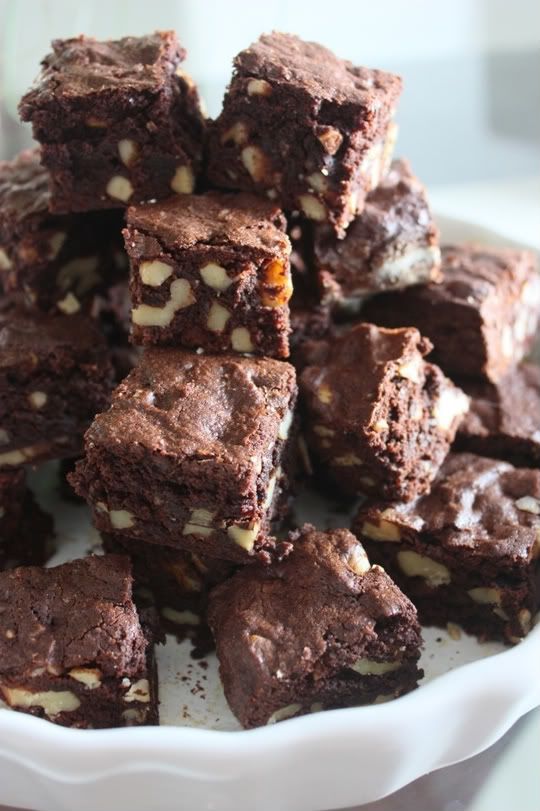 Dark and delicious brownies were baked at home today. Thanks to Jules from thestonesoup.com. Her brownie picture on Tastespotting tugged at my heartstrings and I knew at first sight, I had to make these brownies.
After mixing through the batter, I knew this was a recipe to keep. The batter was rich and dark, glistening with goodness. I couldn't wait for it to finish baking! And while it was baking, it was sending magical wafts of deliciousness in the air. Again, I just knew, these brownies were going to rock my socks off!
They did. *licks chocolate off fingers*
Even P was completely enamored and was commenting on how good it smelled while it was baking. After the first bite, he had another, and another. And another.
These are possibly the best brownies I have ever eaten in the whole wide world! They are so simple to make, there is no fuss about melting chocolates and what not. Just make sure you use good quality cocoa powder and butter for this recipe, you're all set to make the best ever chocolate brownie. Simplicity for the win.
The recipe is taken off Jules' blog, and she adapted this recipe off Deb of Smitten Kitchen. I used a rather tall 8-inch pie plate as my baking vessel. The only thing I did differently in the recipe was add a 2oz of rum into the batter.
Liquor + Brownies = V.V.V. Good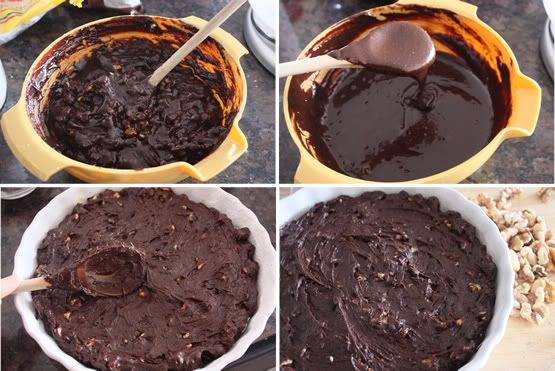 Brownies with Walnuts, or any kind of nuts you love to eat in a brownie
150g (5oz) unsalted butter
1 1/4 cup (255g or 9oz) sugar
3/4 cup (80g or 2 7/8 oz) cocoa powder
pinch salt
1teaspoon vanilla extract
2 eggs, room temperature please
1/2 cup (75g or 2 1/2oz) plain flour
2oz Appleton Estate Rum (optional but highly recommended)
1 cup chopped nuts, such as hazelnuts, almonds, walnuts or pecans, optional
Method:
Preheat oven to 325F. Grease your pie plate/brownie pan/etc with some butter and dust with flour. Or you can just line it with grease paper like what Jules and Deb did. Set aside until ready to use.
1. Melt butter in a saucepan and stir in sugar. It's okay if all the crystals are not dissolved, you just want to wet them in the butter. Add in the cocoa powder in and mix until there are no lumps left.
2. Add eggs, vanilla extract and salt to the batter and mix thoroughly.
3. Gently fold in the flour until it is incorporated into the batter but do not over mix it. You don't want to disturbed the gluten too much. Add the nuts in and 2oz of rum.
4. Pour it into the baking vessel and spread evenly. Bake for 50 minutes. If you are using a smaller baking vessel and want a taller brownie, increase baking time and test every 10 minutes with a skewer, until the skewer comes out clean.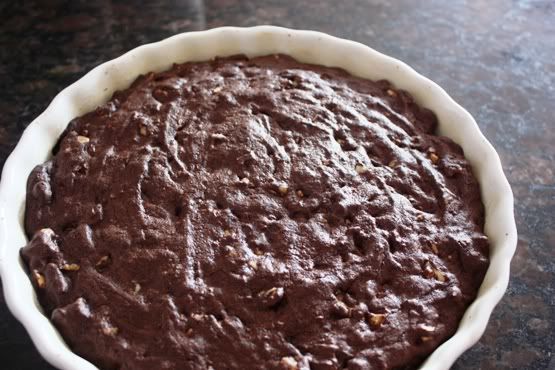 The brownie is really good eaten on its own. This recipe really hits the spot.