February 12, 2010
This is not your regular vegetable soup, this was my grandmother's vegetable soup. Made exclusively on Chinese New Year's Eve reunion dinner, among many other things. Chap Chye Th'ng or Nyonya mix vegetable soup is uniquely a Penang dish. The flavor base of this soup is made out of cabbage, jicama bean, carrots, dried cuttlefish, pork bones and fried garlic oil, which gives it an aromatic and rich flavour. My grandmother makes her homemade bak wan/ meatballs to go with this soup. She steams them separately before serving them in the soup so that the meatballs do not lose its flavor or overcooked in the pot. This soup is especially comforting to drink on a cold day in February.
Like most Nyonya cuisine, it is not the most photogenic of foods. It's extremely hard to take pictures of this soup, and to make it look at least presentable for this blog took me about a day. By the time I was done, the soup was stone cold but luckily I have more in my cast iron pot.
Preparation for this soup may take longer than the cooking time. I said "may" because it depends if you want to cut the carrots and jicama bean into nice patterns. The good thing about this vegetable soup with meatballs is that absolutely nothing goes to waste. And you'll see why.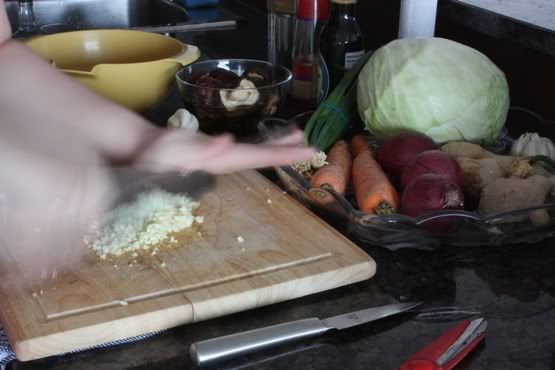 Chap Chye Th'ng with Bak Wan (Nyonya mix vegetable soup with meatballs)
Chap Chye Th'ng:
2 lb pork bones
2 piece of dried cuttlefish, washed and steeped in hot water
2 medium sized carrots, cut into quarter inch slices
1 large jicama bean, sliced
2 onions, cut into quarters
3 cups of cabbage, cut into 2 inch squares
3 slices of ginger
1 teaspoon of whole white peppercorns
10 dried Chinese mushrooms, re-hydrated and halved
2 tablespoon of garlic oil (minced garlic + enough oil to cover in a bowl + microwaved 2mins till golden brown)
soy sauce to taste
While you're preparing your carrots and jicama bean, do not throw away excesses – keep them for the meatballs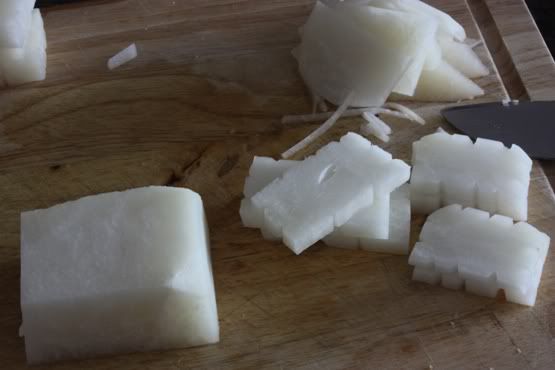 Method:
In a large pot (with steamer attach would be extremely convenient), fill it with 8 cups of water and bring it to boil with the pork bones, dried cuttlefish, ginger slices, onions and white peppercorns. Let it cook for 30 minutes.
Add the jicama bean and mushrooms in, and cook for 15 minutes before adding the cabbage and carrots in.
Cook the soup for another 30 minutes and then stir in two tablespoons of ginger oil, lower heat to a low simmer until ready to serve.

Bak Wan (Homemade meatballs)
15 large shrimps
200grams minced pork
2 tablespoons of minced carrots
2 tablespoons of minced jicama bean
1 stalk of spring onion, chopped
3 Chinese mushrooms, re-hydrated and chopped finely
1 teaspoon sesame oil
1 tablespoon garlic oil + fried garlic bits
1 teaspoon cornstarch
1 tablespoon soy sauce
1 egg
Method:
Mix all the ingredients together in a bowl with your finger tips.

Shape the meatballs into large two inch balls and steam them over the top of the soup pot (that comes with a steamer) for 15 minutes.
Serve it together with the soup
I remember eating just this over a bowl of rice as a kid. And while I did not appreciate the intricacy of this soup and the effort put into it, I do now. I stood at my kitchen counter for 2 hours chopping and shaping meatball. It was worth it and a most satisfying meal. 🙂