September 26, 2009
Risotto balls.
Quite simply, risotto when left overnight will solidify enough to for you to form a ball if you wet your hands enough. This is thanks to the starch that the rice imparts along with some dehydration. And the rest is quite simply rolling the individual balls on some breadcrumbs – do use Panko because they are crispier than traditional breadcrumbs – a bit of salt and pepper.
Since your risotto is tasty to begin with, you don't really need much seasoning to make risotto balls. Deep fry the breadcrumb dredged risotto balls until golden brown and use marinara sauce as dip. Simple, delicious and quite hedonistic. A cup of left over risotto will make about 6-8 risotto balls depending on how big you make them to be.
Once they are deep fried in golden delicious balls, serve them over a bed of greens. Risotto balls are also very good as appetizer. Too much carbs? Don't worry about it, walk that extra mile tomorrow. 😉
Risotto balls recipe
Left over risotto, shaped into 1 inch diameter balls
1/2 cup panko breadcrumbs
salt and pepper
enough oil for a deep fry
Marinara sauce for dipping
Or
Your favorite green salad mix, tossed lightly with some basic dressing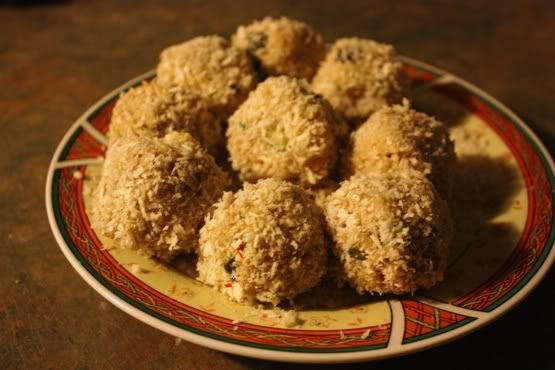 Method:
1. Mix the panko breadcrumbs with a pinch of salt and some cracked pepper. Roll the risotto balls into the breadcrumbs to dredge.
You don't need eggwash for this because the breadcrumbs will stick very well to the balls, thanks to the starch.
2. Deep fry the risotto balls until they are a crispy golden brown. Transfer them to rest on paper towels to and season with some salt over risotto balls.
3. Serve with marinara sauce as a dip or over a bed of greens as a salad. Lemon wedges would go very well to squeeze over the top before serving.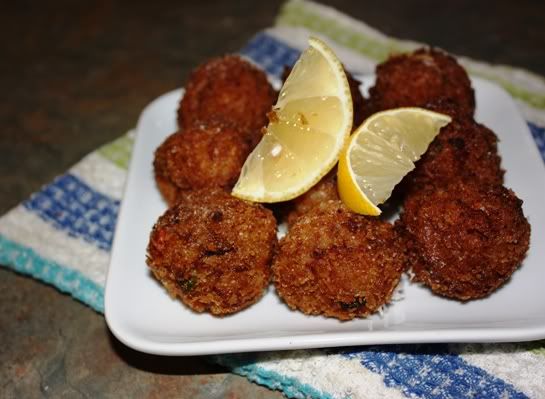 .
For recipes on risotto, check out my Roasted Cauliflower Risotto and Peas and Broccoli Rabe risotto.