July 31, 2009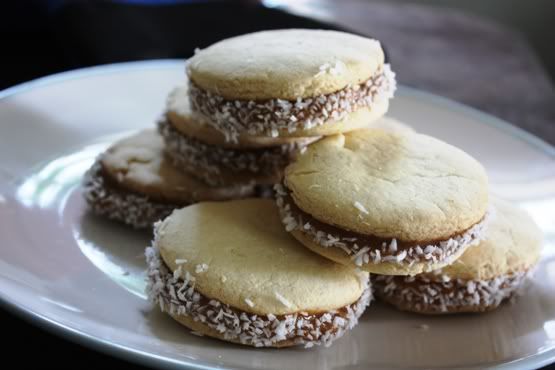 Alfajores is a popular Spanish confectionery made up of two shortbread cookies held together by a dollop of delicious dulce de leche or jam. It looks like a delectable French macaron but it's a different type of sweet altogether. I have not heard about Alfajores before but this Spanish delight is quickly an inspiration to my taste buds. For instance, it has given me the idea of using corn flour (or corn starch in some continents) into my cookie recipes for a light, crumbly biscuit. I cannot forget my first bite of this sweet sandwich, the biscuit that held it together is so light it almost melts in your mouth with every bite!
Alfajores de maicena is a version that uses dulce de leche as the center of the sweet sandwich; and this is the recipe we used. I have to thank my friend, K for introducing this cookie sandwich to me and his diligence in making dulce de leche with a can of condensed milk while watching Office Space. 😛

We picked a recipe that was written in Spanish and neither of us understand that language much. Thank god for Google, translation cannot be easier.
So this is a translation of the recipe, taken from the blog of Martiniano Molina.

Alfajores de maicena:
250g butter
150g sugar
3 egg yolks
300g corn flour/corn starch
200g super fine flour (we just used all-purpose flour)
1/2 tsp baking soda
2 tsp baking powder
1 teaspoon vanilla extract
zest of 1 lemon
1 can of dulce de leche (made from double boiling a can of condensed milk)
200g shredded unsweetened coconut

Method:
The recipe did not include a temperature for the oven, so when in doubt use 350F.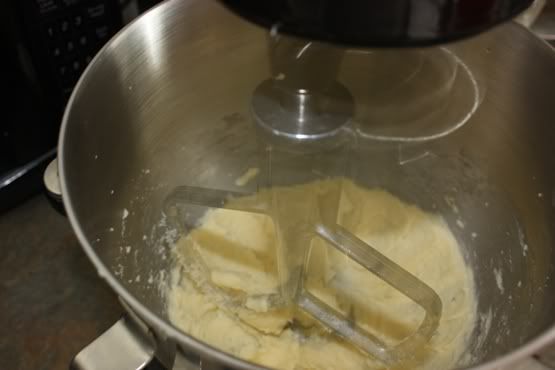 1. Beat butter and sugar until light and fluffy. Add yolks and lemon zest in and mix well.
2. Mix the corn starch, flour, baking soda and baking powder into the butter batter until a smooth dough is formed.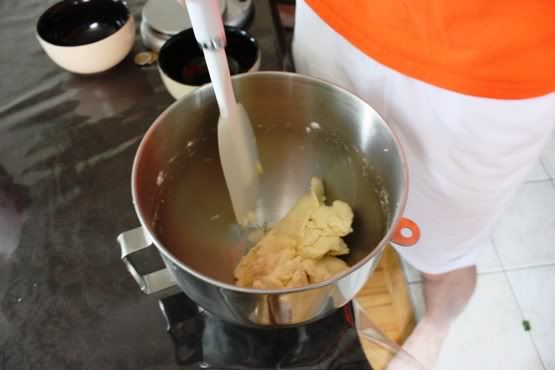 3. Knead the dough slightly and form it into a flat disc, flatten it with a rolling pin until it is about 1/2 inch thick. Use extra corn starch while rolling if the dough sticks.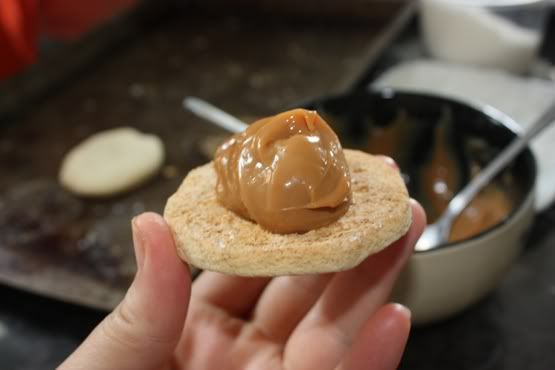 4. Use a round cookie cutter and cut the dough into circles and place them on a baking sheet lined with parchment paper. Bake for 15-18 minutes.
5. Once the cookies are baked, let them cool for about 15 minutes before spreading a dollop of dulce de leche on one biscuit and sandwich it with another. Roll the biscuit sandwich's corner on the shredded coconut so that it sticks to the dulce de leche.
Wrap your alfajores in plastic wraps after it's made and store them in the fridge. They keep quite well and is delicious cold or in room temperature.
I think we did pretty well from our own interpretation of the translated recipe. 😉
You should try Alfajores, they are unlike their cousins, the French Macarons where the biscuits are crispier. But these two recipes do share a similar trait; sandwiching delicious sweet condiments with cookies can never go wrong.