July 14, 2009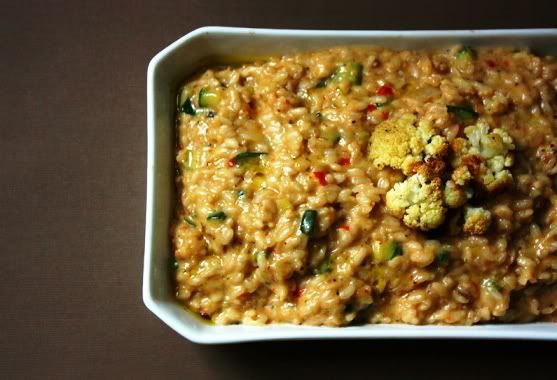 Bad weather on a summer day is noticeably gloomier. Maybe it's the fact that we expect sun instead of dark clouds. To me, a rainy day is the perfect day for comfort food. A day like today warrants eating food that warms the soul.
I've decided to make risotto again. After all, my arborio rice is not going to last forever, there are beetles and bugs waiting to make babies in them and I hate it when that happens. The last time I made risotto was a time when the season was still cool. This time I want to make a summer inspired risotto. I had a bunch of ingredients to use but I decided to close my eyes and pull one out of my fridge — a cauliflower!
Not a entirely a summer vegetable but it'll have to do. Roasted, they are delicious. That's right.. I'll make a roasted cauliflower risotto!

The inspiration for this risotto is to make it look like a roasted cauliflower. The color, the flavor and the accompanying ingredients should resemble that fact. And I must say, it does have a nice golden roasted look to it, the specks of red and green simple represents the fresh herbs and spices I use while roasting the vegetable. 🙂
Here's my Roasted Cauliflower Risotto recipe:
Roasting the cauliflower:
1/2 head of cauliflower, cut into small florets
2 tablespoons of olive oil
1 teaspoon paprika
1 tablespoon chopped parsley
salt and pepper to taste
The rest of the ingredients:
1.5 cups of arborio rice
1 tablespoon of olive oil
1 tablespoon of butter
1 onion, diced finely
2 cloves of garlic, chopped finely
1 stick of celery, finely diced
1/2 cup of diced zucchini
2 red chillies, de-veined and chopped finely
1 cup of white wine
1 cup of vegetable broth
1 and 1/4 cup of water
Method:
Pre-heat oven to 400F. Mix white wine, vegetable broth, water into a measuring cup.
1. In a baking tray, combine the cauliflower, olive oil, paprika, parsley, salt and pepper together. Toss them well to evenly coat the cauliflower florets.
2. Bake for 40minutes. Reserve aside for later use.
3. In a pan, heat olive oil and butter together until it melts, let the butter brown slightly for that nutty taste. Add the onions, garlic, chilies and celery and saute them until they become soft. This will take approximately 5 minutes.
4. Add the rice into the pan and saute it until it becomes slightly translucent. The rice grains will have a translucent ring around the edges when this happens. Roasting the rice like this gives it a nice base flavor. Now add 1/2 cup of the broth (you mixed earlier) in and stir to cook the rice. Add your zucchini into the pan as well.
Making risotto requires patience and lots of love. You need to keep stirring the pot as it cooks so that it doesn't burn the bottom.
5. Keep adding the liquid and throw in a handful of roasted cauliflower florets in, alternately, to cook and keep stirring until all the liquid is used up. The cauliflower will cook down as you keep adding liquid in and will incorporate itself beautifully into the risotto.
Your risotto should technically have the consistency of an creamy oatmeal porridge when it's done but each individual grain of rice still holds together for that al dente texture. Taste your rice for the right texture, if it's still raw in the middle add a bit more water and cook for another 10minutes.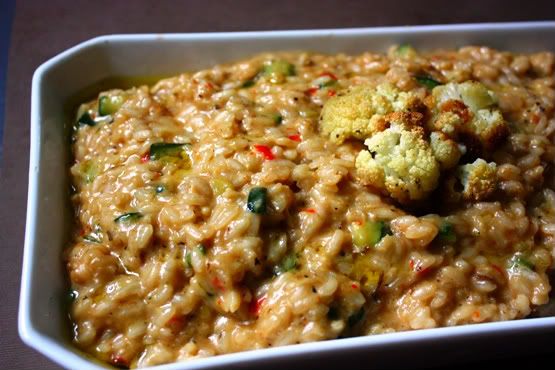 Serve your risotto immediately. Now doesn't that look like a roasted cauliflower in a risotto? It tastes nutty and deliciously good too!
Leftovers can be made into risotto balls, and that would another post of its own. 😉