May 28, 2009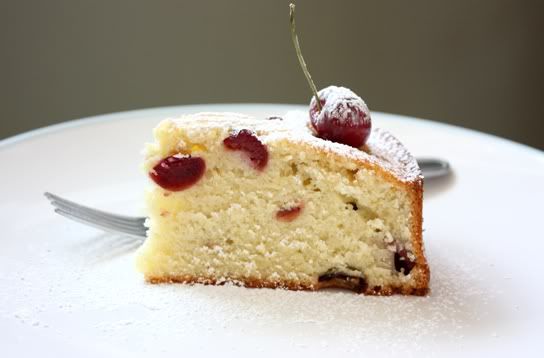 You know the saying "The cherry on the cake"?
Eating this cherry cake is like the cherry on the cake to a perfect pre-summer evening meal. Never mind that it rained a little.
Fresh Bing cherries were used to make this dessert. It is a very moist cake with a balance of sweetness and a hint of sour. But first, you need to temper the cherries with some sugar to get rid of excess moisture. Failing this, you will have cherry craters within the cake because fresh cherries shrivel up during baking time.
You can go ahead and use sour cherries or a combo of cherries for this recipe but please don't use maraschino as they've been preserved in syrup. They can be too sweet!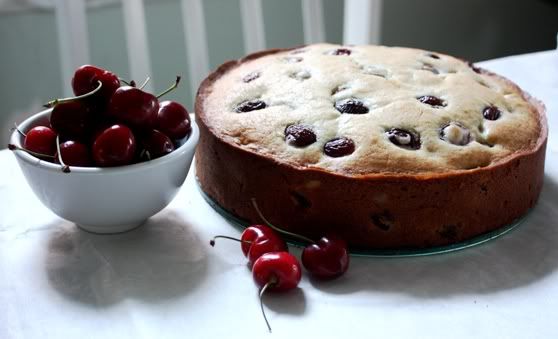 Cherry Cake Recipe:


1 and 1/2 cup of fresh cherries, halved and pitted (canned whole cherries can be substituted for fresh cherries).
1 teaspoon of vanilla extract
2 cups of all purpose flour
1 teaspoon baking powder
a pinch of salt
3/4 cup of butter, softened
3/4 cup of sugar + 2 tablespoon of sugar
Rind from 1 lemon
1 vanilla pod, beans scraped.
2 Eggs
1/2 cup of milk
1 tsp Kirsch (optional)
Method:
1. First you need to temper with your cherries. Add 2 tablespoon of sugar to the cherries, mix to combine and set them in a colander for all the excess liquid to drip. This process will take about 1 hour. After one hour, flavor the cherries with 1 teaspoon of vanilla extract and set aside.
Pre-heat your oven to 350F. Grease a 10-inch cake pan with some butter and set aside.
2. Cream butter and sugar until light and fluffy with an electric beater. Add in eggs, one at a time, and beat to combine.
I suggest not using the electric beater any more from this point onwards so that you don't over beat your batter.
3. Add the lemon rind, vanilla beans (and kirsch if you're using) into the batter and mix well.
4. Mix the all the dry ingredients together; flour, salt, baking powder.
5. Alternately, add the dry ingredients and milk into the batter, folding it in until everything is incorporated.
6. Add the cherries in at the end, fold the batter until cherries are mixed through.
7. Bake in the oven for 1 hour or until the skewers comes out clean in the middle of the cake.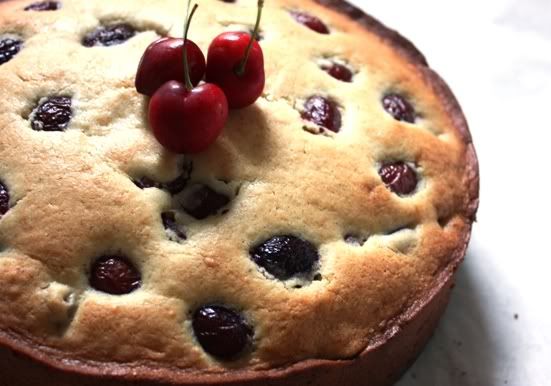 It is imperative to let the cake cool completely before cutting. Otherwise, it will be a crumbling, albeit tasty, mess!
This cherry cake is very simple to make and it is extremely delicious. It would keep well for 3-4 days before it starts to get stale. Keep the cake wrapped in saran wrap to preserve its moistness.