May 31, 2009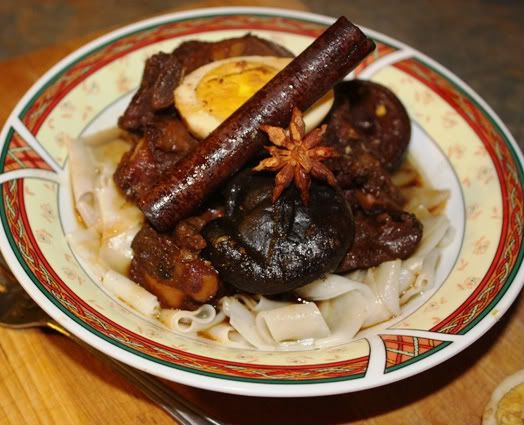 I don't cook enough Malaysian dishes in my kitchen.
This is my mother's/grandma's Tau Yew Bak recipe that I grew up eating as a kid. This braised pork dish is comfort food to me as a big bowl of osso bucco are to the Milanese. The meat is braised for an hour or two in an aromatic dark sauce flavored with star anise, cinnamon, black peppercorns and a whole head of garlic.
It's a very Penang Hokkien dish. And in Penang, this dish is eaten with white rice and a dollop of sambal belachan.
There are many variations of this dish because it's really a provincial dish that went on a national scale. So every Chinese grandmother has their own way of making this dish but the basics are pretty much all the same – star anise, cinnamon, garlic and pork.

Traditionally, pork belly is used in this recipe. The lard is what makes Tau Yew Bak good but other cuts of pork are permissible as well. My mom likes to use several different cuts for more variety.
I used a meaty cut of pork ribs, and I asked the butcher to cut them into 1.5inch chunks for shorter braising time. You can put in big chunks of ribs in and cook it country-style, too.

Tau Yew Bak or Braise Pork in Soy Sauce
This recipe feeds 2-3 people
670g of pork ribs, cut into 1.5 inch chunks
1 head of garlic, papery skin peeled off
1 teaspoon of black peppercorns
1 star anise
1 stick of cinnamon, 3 inches in length (or if you can get your hands on some cassia, it would be the best)
1 teaspoon of Chinese 5 spice powder (optional)
1/4 cup dark soy sauce
2 tablespoon of soy sauce
2 tablespoon of sugar
1 tablespoon of oil
3 cups of water
Optional but commonly used ingredients: Potatoes (big chunks), bean curd sticks, fried tofu pieces, Chinese mushrooms, canned button mushrooms, eggs.
You may also use chicken in place of pork as well. It's equally delicious in a chickeny sort of way.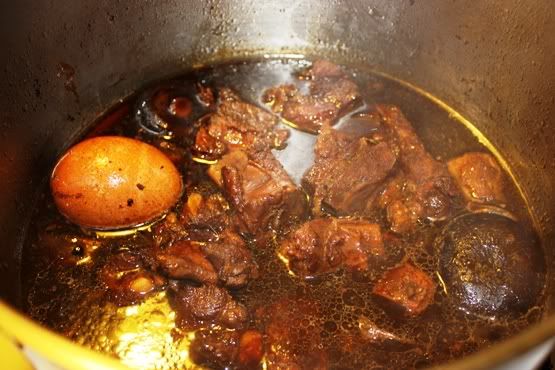 Method:
1. Pre-boiled the pork ribs in boiling water for 5 minutes to get rid of any impurities.
2. Drain water from the pot and heat it up with oil. Add the pork, garlic, star anise, black peppercorns and cinnamon in. Saute until aromatic.
3. Now, add the soy sauce, dark soy sauce, and sugar in. Saute until the pork is completely covered by the dark sauces and the sugar began to caramelized a little.
Be careful not to burn the sugar. As soon as you see that the bottom of the pan begins to stick, add the 3 cups of water right away.
4. Add water as soon as caramelizing of the sugar begins. Scrap the bottom of the pan a bit with your spoon and let pot come to a boil.
If you are adding any of the optional ingredients listed above, you may add them right now. Make sure your potatoes are in big pieces so they are able to withstand long the long cooking time. I usually put them whole, if I'm using them. If you're using eggs put them in just before serving if you don't want to overcook them. Usually, overcooked eggs with gray rings around the yolk is not uncommon in this recipe. The star of the show is the fall-off-the-bone delicious meat and it's flavorful sauce.
5. Once it starts to boil, lower the heat to a simmer and cook covered for 1.5 hour.
Serve hot on steamed white rice and a dollop of sambal belachan. I served mine on some thick rice noodles because I had some on hand. Now, I cannot explain how wonderfully aromatic the meat is once cooked. It's simply the most nourishing smell for the soul. Don't waste any of the sauces, bread makes for a good vessel for soaking up the goodness!