May 1, 2009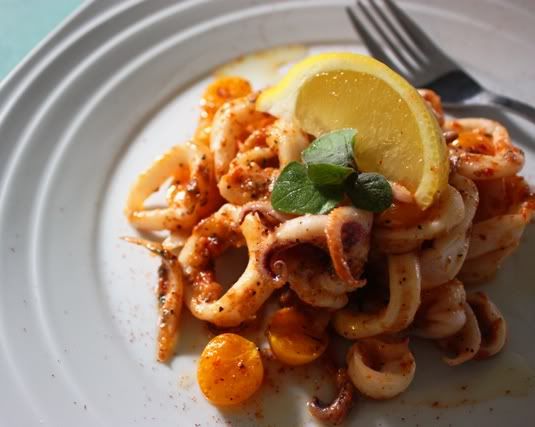 Matahari means sun, in Malay.
The beautiful weather affects my mood is a very positive manner. Like my growing pots of herbs, vegetables and tomatoes, I felt like reaching my arms high for the sky. So, I am celebrating the return of summer with a calamari dish marinated with a coat of paprika seasoning, sauteed with some good olive oil and a good squeeze of lemon to finish. I name it Matahari Calamari. I have never made this dish before, I only followed what I felt like eating, so began another kitchen experiment…

The recipe for this Matahari Calamari is very simple. The star ingredient is the squid, so get the freshest you possibly can.
1lb of fresh squid, cleaned
1 teaspoon of paprika powder
1 clove of garlic, minced finely into paste
a pinch of flour
1/4 teaspoon of dried oregano
a few scrapes of lemon zest
a pinch of dried chili flakes
salt and freshly cracked pepper to taste
a handful of yellow cherry tomatoes, halved
fresh lemons wedges
Method:
1. Slice the squid into 1/2 inch thick rings.
2. Add the garlic, paprika powder, pinch of flour, oregano, dried chili flakes, lemon zest, salt and pepper into the squid rings and mix to combine. Let it sit for about 10 minutes.
3. Heat the pan until very hot and add the tomatoes. Saute for a few minutes before adding the marinated squid. You want to have small brown bits crisping up along the sides of the squid when it is cooked so keep sauteing and tossing until the squid is cooked through and the tentacles curled with crispy bits.
I don't like overcooking my squids. When cooking with squid there is a point where the squid becomes toughen and only more cooking time will soften them again, so it's best to not overcook. I like to cook my squid for no more than 5 minutes, so that they are soft and chewy but not rubber ducky chewy.
4. Serve with a generous dousing of lemon juice.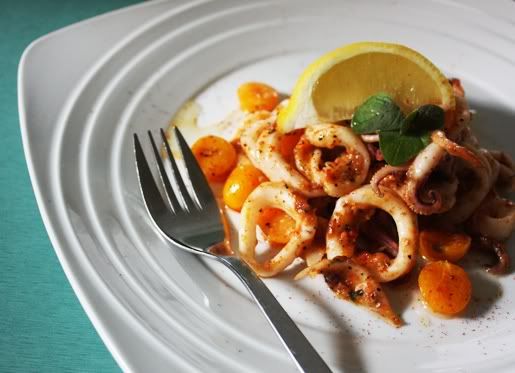 The Matahari Calamari is so yummy with the lemon juice, you feel like you're sitting under the sun eating this delicious squid you could swear that you could taste the sea breeze in your mouth. But that's what buying extremely fresh seafood does to anyone 😉