April 23, 2009
I was not been a big fan of risotto. My naivety in the past lead me to think that risotto is no different from rice porridge Chinese mothers cook for their sick child. What a bloody fool, I was. But no longer do I feel that way about this precious Italian home-style grub. It's simply the best comfort food in the world that can be cooked in so many ways.
My way is done with fresh peas and broccoli rabe. The burst of sweetness balanced by a mild green bitter flavor just MAKES this risotto. This is an absolutely vegan vegetarian meal…and I am no vegan, let alone vegetarian.

If you have tasted broccoli rabe, you would notice a slightly bitter green taste to the vegetable. It tastes very much like kailan or Chinese kale. When cooked, they become bittersweet and imparts a very deep and robust flavor to any dish. It was quite delightful paired with sweet peas.
It's important to not take shortcuts with risotto. It needs to be creamy and perfectly al dente in each grain of rice. That means you must lovingly stir the pot for 30 minutes until the rice becomes a creamy risotto – no cheating with adding any cream. And please use arborio rice for this recipe, normal rice just would not do.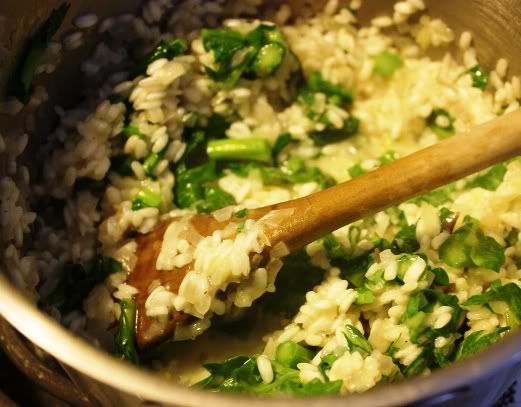 Peas and Broccoli Rabe Risotto
serves 2-3 persons
1 cup of arborio rice
2 cups of vegetable broth, more if needed
1 cup of white wine
2 shallots, minced
3 cloves of garlic, minced
1/2 cup of peas, frozen is fine
1 cup of chopped up broccoli rabe, reserve the chopped up stalks because you're going to use that first
2 tablespoons of olive oil
1/2 cup of grated parmesan,
salt and freshly cracked pepper
Method:
1. In a medium size pot, heat olive oil, garlic and shallots together and saute them until the shallots become translucent.
2. Add in your arborio rice and saute the rice with the garlic and shallots for about 3 minutes.
3. Now add in your chopped up broccoli rabe stalks in to cook with the rice, season with a pinch of salt. Add the white wine in and stir to make sure that no rice sticks at the bottom.
There is nothing fancy with risotto, just a lot of stirring and making sure that the rice does not stick to the bottom of the pan. And this is what we will be doing in the next steps.
4. Stir in the vegetable broth bit by bit into the rice until it is all used up. Continue stirring as you cook the rice for another 15 minutes. As time goes by, you'll find that the risotto becomes thicker and creamier but each grain of rice are still nicely holding their shape. In fact, you will notice that the outer layer of the rice is becoming more translucent with a white bit in its center grain. Continue to stir frequently, it is imperative.
5. After 15 minutes of constant stirring, add the remaining broccoli rabe in and resume stirring. Add a bit of broth if you find that your risotto is too thick. Continue cooking for another 5 minutes more, don't forget to stir.
6. Add your peas in and cooked for a few more minutes. Take it off heat, and add your parmesan cheese in. Mix well and season with a bit of freshly cracked black pepper and salt.
Before serving, drizzle a little bit of good quality extra virgin olive oil over the risotto for a nice finishing.
Seat back and admire that little plate of creamy, rich risotto that smells irresistibly out of this world.