April 13, 2009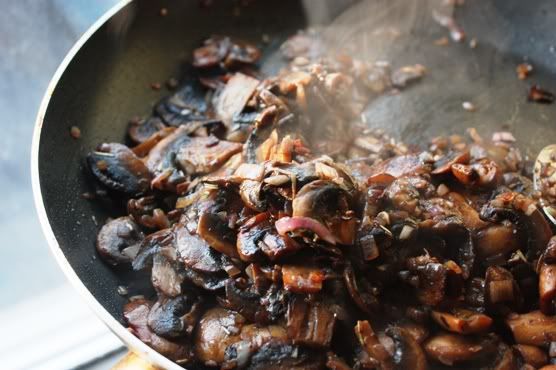 Store this in a sterilized mason jar and keep it in your fridge for an indefinite period of time. Top it on crusty bread and toasts, top it on fish and chicken or steak — it is delicious! Marinated mushrooms with balsamic vinegar and shallots is the best all-in-one condiment/side dish that goes well with almost anything. Make A LOT if you want it to last. My 2-lbs of marinated mushroom barely lasted 9 days.
And it does not need to cost you a bomb… Would you believe me if I told you I made this recipe with less than $5?


I bought white button mushrooms at the 99cent basket at my grocery store. Sure, the mushrooms may look less than pretty with plenty of bruises and spots – but they were not rotten. They were just basically too bruised for consumers to want to pay premium price for them. And for this recipe you do not need pretty looking mushrooms. In fact, if you had used perfectly nice button mushrooms, you would not be able to tell the difference if it was cooked with bruised mushrooms. So 99cents x 3 for 2-lb's worth of mushrooms, $1 for 5 shallots (and I only used 3) and balsamic vinegar, salt, pepper and sugar that's already in my pantry costs $0 and the grand total for this recipe is $3.97. So enough convincing, let's grease it up.
Marinate Mushrooms with Balsamic Vinegar and Shallots
2-lb of white button mushrooms, cleaned with a damp cloth.
3 shallots, diced finely
1/4 cup of olive oil
1/4 cup of balsamic vinegar
1 tablespoon of sugar
1/2 teaspoon of pepper, more or less
Salt to taste

Method:
1. Prepare your mushrooms by slicing them width-wise simply. They do not need to be too thin, maybe about 1/2cm thick or so.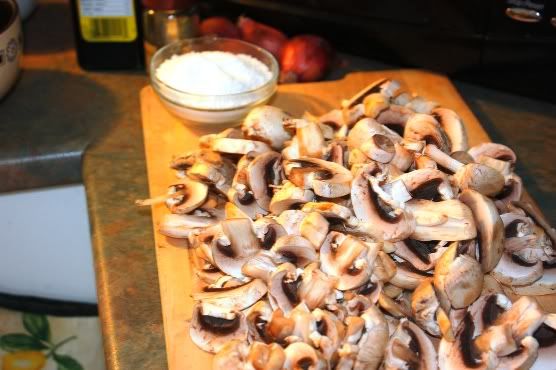 2. Heat pan on medium-high heat until oil is hot – I would suggest cooking your mushrooms in portions so it cooks evenly and not steam. Toss in your mushrooms, sprinkle with a pinch of salt and saute until the mushroom is completely wilted and slightly browned around the edges.
The key to this recipe is indeed in the method of preparation. Mushrooms contain a lot of moisture, which is one reason why they bruise easily. You need to get rid of the water in the mushroom by sauteing them for this recipe to work. And to do that effectively, do not overcrowd your pan. Cook your mushroom in batches – it is a little tedious but well worth it — and your arms will thank you too.
3. Once your mushrooms are sauteed well, you will notice that they have reduced from a mountainous pile of mushroom slices into a modest, and delicious, looking mound. Add the shallots in and toss them together with a pinch more salt and 1/2 teaspoon of pepper. Give the mushrooms a few more toss before adding the sugar in.
4. Now it is time to add the balsamic vinegar in. Make sure your pan is still hot when you add your vinegar it. It has to sizzle and sputter. Pour the vinegar around the pan so that it will evaporate excess water as the vinegar flows to the middle of the pan; instant caramelization! Toss your mushrooms and vinegar concoction again and let them cook for another 2-3minutes.
They are ready….
They are delightful when eaten hot, warm and cold – on bread, crackers, chicken, fish and steak. These marinated mushrooms is really cool, easy-going, and yummy. It's almost like you're dating a surfer dude where anything goes and still sparks-a-flyin'. I'd recommend this to any first timer.
😉